December 28th Update:
The French Vintage
Giveaway Winner is Carol DuBois!
Hey, it's
Day 2
of the
While the Cat's Away Giveaways
! And today's theme is
French Vintage
.
Remember this lovely hinged canvas book that Design Team Member Laura Carson created last year? Well, Miz Meghan decided to revisit Laura's theme and build a Giveaway around it (with some new resin embellishments and clear stamps that fit with the theme beautifully)!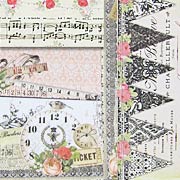 And I added the Back in Stock and On Sale! Lyric 6×6 Paper Pad into the mix, too!
Before I get carried away pointing out things in the Giveaway, let me get to today's Sale items:
– ALL Whitewashed Resin Embellishments are On Sale! (Sweet! that includes the two new ones shown below, plus a nice group of frames, corners, birds…)
and
– The ENTIRE French Vintage Theme Section is On Sale! (Lots of goodies from Laura's project plus collage sheets with beautiful belles from the Belle Epoque.)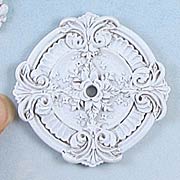 Starting the new sale items off with one of my faves: Resin Ceiling Ornaments (And in today's Giveaway)! Cast resin with a white-washed look. Leave them white or dye/paint. Flat on the back. Set of 5 pieces (that center piece shown at right, plus 4 corners).


Hooray! A French Vintage Giveaway! Beside many of the items Laura used in her shrine, Meghan picked out some newer items like the Vintage Brass Butterflies and Filigree and Vintage Brass Frames Sets. Here's a full list of 25 items in the Giveaway.
Here's how these While the Cat's Away DAILY Sales and Giveaways will work: I've gathered items around a theme and put together a Giveaway Kit that will be awarded to one lucky person.
To enter the French Vintage Giveaway drawing all you have to do is leave a comment BELOW on THIS blog post TODAY (December 27, 2013) by midnight (PST… that's West Coast so you Easterners have extra time).
After midnight I'll randomly pick the previous day's winner. So make sure to check back tomorrow to see who won and to see what's on offer for Day 3 of the Sales & Giveaways!
Hey, who won yesterday's Giveaway? That would be Kimberly Barcello!
More info on the Holiday Closure & Giveaway Rules (including how you can get entered twice in each day's drawing).
And please remember: Our offices are now closed. The whole "While the Cat's Away" theme is 'cause I'm the only one here! For more info about shipping (which will start when the staff are all back on 1/2/14) and the sale in general, please see the While the Cat's Away…" Daily Giveaways: Year 6! overview page.
A final note: Even though our offices are closed, orders for DIGITAL Collage Sheets and Digital Images are still fulfilled in real time!
Posted by Leslie, December 27th, 2013