What a treat 'cause today there's more gargoyle artwork by 2 Design Team Members: Shannon Tuttle and Kristin Batsel! Both pieces use the Gargoyle Front View Die-Cut Chipboard (available separately (On Sale!) or in the current kit).
Starting with Kristin's "Nighttime in Paris" tag at right: Such a nice contrast to the scary/Halloween tags mostly shown so far (from the gargoyles in the kit). And nice use of the Back in Stock! Yellow Cat Eyes (along with the Vintage Paris Postcards and Tallulahs Drama Queens collage sheets). And here's some background by Kristin:
"I really loved that particular postcard collage sheet, so tried to make it work on the gargoyle. None of the postcards were large enough to cover, so I chose the one main building to go in the center/body part of the gargoyle, and two vertical postcards to take care of each wing. I held the cardboard cutout up to the light with the postcard on top to see where the image would fall, and then traced around the postcard on the back so I'd know where to glue the cardboard cutout down. The main image I used in the building was not tall enough to cover the entire body, so I used an image with a low horizontal feel to it to cover the foot area. The scale was perfect, so that little piece blends in nicely as foreground. In fact, all the images in that collage sheet work well together because of their common color scheme. I chose the image of the woman because she looked a little disturbed, as any sane person would be if they were surrounded by bats and menacing cat-like gargoyle eyes."
Then moving on to Shannon's free-standing, 3D gargoyle… assemblage? Captured gargoyle in a fenced enclosure? I'm not sure what to call it but it's quite clever. Here's a bit of info from Shannon's blog post about the piece: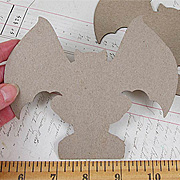 "I started by taking two of the Gargoyle Front View Die-Cut Chipboard shapes and cut a slit in the top of one and the bottom of another. Since I am not the best at measuring and such, I made copies of the gargoyle shape so I could have some practice pieces for making my slits as I didn't want to ruin the good chipboard ones. I covered both sides of the chipboard gargoyle with background paper. As I learned the hard way….cover your shapes with your background paper first and then cut the slits (I also tend to do things backwards). I then used a blending tool and colored the edges with black soot distress ink."
And you can read more on Shannon's blog.
And components from both of these art projects are included in today's Giveaway! (So there's a mix of Parisian and Halloween goodies.) See below for more details and how to enter the drawing.


Yay! A Gargoyle Giveaway! A little Paris… A little Halloween (ok… a LOT of Halloween)… Here's some highlights (and look up about 4″ for 5 new items included, too!):
– Tallulahs Drama Queens Collage Sheet (for that frail flower on Kristin's artwork)
– Happy Haunting – Full Moon Scrapbook Paper (a replacement for the sold out paper with the full moon that Shannon used)
– Small White Picket Fence (about the right scale for the fence Shannon used around the bottom of her piece)
– Noxious Fumes Fiber Set (the fibers that Shannon used in the bare tree branches)
– Purple Iris Paper Flowers (I just like the color contrast to all that orange!)
Plus you can click on the Giveaway photos here on the blog post to see more details.
To enter the Gargoyle Giveaway drawing all you have to do is leave a comment below on this blog post by midnight, September 20, 2013 (Friday night PST). (Eek! Where has this month gone?!)
Don't forget to leave your (hello! correct) email address, too, so I can contact the winner; your email address does not need to be made public. Note: I'm offering free shipping, too, but only within the USA. International shipping will still apply.
Please be patient! Spammers try to post crap here a lot so comments are moderated. So if you don't see your post in the comments section, be patient and check back in a few hours before re-posting it, please!
By Sunday morning's newsletter, I'll randomly pick the winner (via Random.org). So make sure to check back Sunday to see who won!

Posted by Leslie, September 19th, 2013