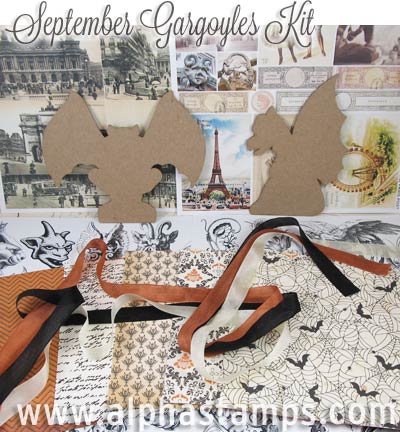 Gargoyles?! Yes! And, as you will soon see from the fabulous art by the Design Team, they can be spooky or nostalgic, and Parisian in theme — or Halloween (or both)!
Caroline Ouzts-Hay is hosting a related Parisian Gargoyle Tag Swap (more info below and/or visit the Yahoo Group for more details).
In addition to this kit, I've sourced some coordinating papers and charms (and even another new collage sheet), so be sure to check out the highlights below (or everything new) to see some more new goodies! (And some trims that are back in stock just in time.)
And as quite a few of the new items (in the kit or the extras) are Halloween-themed, I've added them to the ongoing BIG Halloween Theme Sale!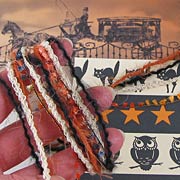 Labor Day Holiday Gift Kit!
An exclusive Alpha Stamps' mini kit of papers and fibers to get you in the Halloween mood! And that also coordinate with the new September Kit: Gargoyles!
The kit includes 6" x 6" papers (large enough to cover either of the new Gargoyle Chipboard Die-Cuts) and 4 yards of fuzzy fibers.
Free for all orders over $25! Sale items are eligible, too (toward meeting the $25 requirement, but shipping and taxes are not).




New Items (Also in the September Kit)
Posted by Leslie, September 1st, 2013