I know… they're not Vintage French or 4th or July themed, but I just had to show off the adorable ATCs by Teri Calia using the New! Well Played 6×6 Paper Pad!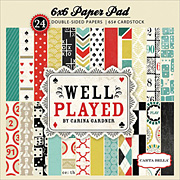 The Well Played 6×6 Paper Pad has 24 double-sided cardstock sheets (2 each of 12 designs) with colorful card, dice, chess, bingo and domino patterns (and I may have missed one).
Ok, back to where I was supposed to start from: some new Vintage French items… that can stand alone but also work well with the theme of that amazing Parfumerie Diorama that Design Team Member Laura Carson created (and graciously provided a tutorial for… more on that below). Scroll down just a bit to see the new goodies, including my faves: Antique Candelabra Charms and 4 Inch Whitewashed Rose Hangers.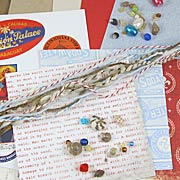 And what's this about a FREE kit offer ending soon? That's right: the 4th of July Gift Kit (free for all orders over $25) will be ending Monday night, July 8th. Click on the photo of the kit (at left) to see more details. And: there's nothing you need to do (no coupon to enter), we'll include a free kit in all qualifying orders!
Lastly (for my intro… certainly not the last bit of news in this newsletter), Laura Carson is preparing another Halloween Event (extravaganza… insanity… you get the idea). Click the logo (at near right) to read more about this year's event: a Halloween Carnival!
Do you remember the 2012 Halloween Event? Here's the overview page to last year's Pretty Potions and Poisons Apothecary Event.




Parfumerie Diorama Tutorial by Laura Carson


Wow… did you see that amazing diorama (and amazing tutorial) that Laura Carson created? Check out last Thursday's newsletter for all the details. And a few of the new products that Laura used are at right.
Posted by Leslie, July 7th, 2013