Drum roll please… the winner of the Children's Book Illustrations Giveaway is Mary Alicea!
Thank you to everyone else for playing — and stay tuned: I have some more Giveaway & Contest ideas brewing.
And reminder: TODAY (March 2nd) is the final day of the Children's Book Illustrations Collage Sheet Sale!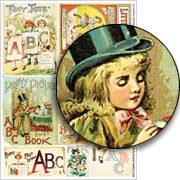 Plus, just wait til you see what's in store for the March kit! (Hint: find out tomorrow!)
Also, don't forget the Special Notices mailing list (to be notified when contests, giveaways or swaps announced). If you already receive the newsletter, after you enter your email address you'll get instructions on updating your profile to include the second mailing list.
thanks,
Leslie
Posted by Leslie, March 2nd, 2013