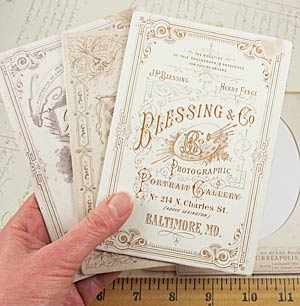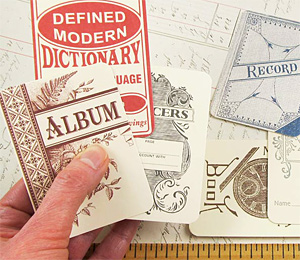 This week's new items include a happy accident (as some of the new Tim Holtz items arrived a bit late — but by chance on the same day as some new ATC-sized printed cards (and clear stamp sets) that share the same departure point: Victorian Cabinet Cards.
See the photos at right: the new Cabinet Card Frames (pockets, really) and the adorable Vintage ATC Mini Decks (also new) could have been created by the same designer.
And there are six (!) new sets of clear stamps: each a set of 2 clear stamps (a cover and an inside page) to make tiny books (or accordion books). Each stamp in the set is 1-7/8 x 2-3/4″. The samples below are made with the Photo Album and Dictionary sets.
Plus, see below for more new products, including a cool set of metal tags, a new paper pad, and info on another (huge!) newly-digitized collage sheet section (downloadable and on sale!).




Thursday Newsletter Catch-Up

"Well, will you just look at this sweet Matchbox Shrine created by the most mahhhvelous Lora Mahaffey!

"Now don't go getting yourself all worked up thinking that you can't possibly create something so adorable because it looks like it takes a lot of work. Trust me, it is SO easy you'll be wanting to buy up all the Matchboxes that you can!"

And the related Paper Theatre Collage Sheets sale ends tomorrow night, Monday, February 25th! That includes lots of curtain designs that could be used in a matchbox shrine like Lora's!

Read more on the blog, including more info on other sale items that you could use to make a matchbox shrine (sale prices also ending tomorrow night!)


3 Inch Tall Candlestick Holder
New and On Sale!
(The stand/base for Lora's Matchbox Triptych.)
Posted by Leslie, February 24th, 2013