Wow… two beautiful collages to show you today (by Wendy Anderson and Teri Calia), who both took a simple object and transformed it into an amazing piece of artwork!

First, is a simple Unfinished Cigar Box, transformed by Wendy into a gorgeous "Gypsy Countess" Shadowbox/Shrine to Cléo de Mérode.
A snippet of one of the interior scenes is at near right, but this small photo doesn't do it justice: see more photos in the Gallery and/or see all the papers and trims that Wendy used.
Next is an 8×8 Wooden Window Frame (which, by the way, almost perfectly fits the top of that Cigar Box Wendy used… ) that Teri turned into a shallow shadowbox (by backing it with a piece of 8×8 Heavy Chipboard).

Then Teri used torn pieces of the new Postale 8×8 Paper Pad, lots of rub-ons, bits of Baker's Twine, an Antique Pen Nib and many more little trinkets I won't list now. Links to all of the new Postale Collection are below. And see all the papers and trims that Teri used.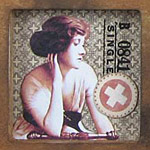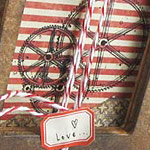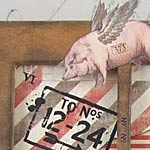 Before you go down the rabbit hole of exploring all those goodies used in these 2 samples, don't forget to look below for more beautiful papers (the Wren Collection is gorgeous!), cute (and graphic) black and cream Vintage Number Cards, back in stock items (lots!), more Alice in Wonderland art from our Design Team, and the winner of the "Think PINK" Art Challenge!

Posted by Leslie, May 22nd, 2012