Note: most of the links on this post no longer work, as we moved to a new Web site in 2018. But you can try searching on the same names (as links below) on the new site.
Hey, it's Friday of the 4-day "Black Friday" sale! And today's theme is Sleeping Beauty.
Here's how these themed days will work: I've gathered new (and current) items around a theme. All of them are on sale for everyone. And I've pulled together a lovely Giveaway Kit made from those goodies that will be awarded to one lucky customer (click on the photo at right to see even more of the Sleeping Beauty Kit).
If you order on Friday you'll automatically be entered in the drawing for the Friday kit. More info on all the gifts & freebies going on during the sale is here.
Note: all the indented items below are included in the Giveaway Kit. There are some additional (related) things just put on sale that are not in the Giveaway Kit (down at the bottom of this page).
New & On Sale
(and included in the Giveaway Kit)
Sweetness Chipboard Book
New & on Sale! Heart-shaped chipboard book. Approx. 6″ x 6″. 8 pages plus 2 covers (and a binding ring).

Soft Taffeta Ribbons
(8 colors but only peach in kit)
New & on Sale! The lighter colors are slightly transparent (see the peach color in the far right photo). Although they are taffeta (which is normally very crisp), the fiber content makes them soft as satin. 5/8″ wide.


Floral Fabric Scrapbook Paper
New & on Sale! Roses in soft, faded colors. Double-sided with polka dots on the back. (We did have this paper ages ago but it's been sold out for months… so I'll call it "new.")

Embossed Flower Charms
New & on Sale! Flat back (except for the indentations from the embossing). 13mm diameter (so about 1/2″; shown larger than "real" size in the photo).


Cat's Eye Beads (3 colors)
New & on Sale! Cat's eye glass beads, sometimes referred to as fiber-optic beads, change hue as they capture and reflect light and have a band of light running through the center that resembles a cat's eye. 6mm diameter.

Pink Crackle Beads
New & on Sale! 5mm glass beads. Very pink!

Not New to the Site, But Newly On Sale!
(and included in the Giveaway Kit)
Je t'Adore Printed Muslin Ribbon
Printed cotton muslin with raw (unhemmed) edges. Printed with gold metallic ink. Sold by the yard.

Large Cherub on Key Rubber Stamp
2-1/4″ x 1-1/2″ (unmounted version in the kit).
$0.99 Sale


Chrysanthemum Scrapbook Paper
12″ x 12″ double-sided, heavy cardstock sheet. (The contrasting triangular corner in the photo is showing the back side only – with a fun, faux stitching and ric-rac trimmed border design.)

Je t'Adore Ribbon Roses
1-1/2″ diameter, on a mesh netting. Note: the ribbons "break" every 18″ (there's an approx. 1/4″ gap between the end of one row of roses and the next; the netting is continuous). Sold by the yard.


Brothers' Grimm Fairy Tales Collage Sheets (on cardstock in the kit… all 3 now available as digital downloads, too!)

Sold out but included in the Giveaway Kit
Worn Lipstick Stickles Glitter Glue
(We still carry Stickles, but in other colors.)

Miniature Roses in 3 Colors
(We still carry lots of other Paper Flowers.)

Artisan Elements
(Shown at left, and I really wish these were still available. Adhesive backed, flexible, slightly 3D "elements"; 14 per pkg. These can be distressed to your heart's desire. Although they are fabulous the way they are, you can decorate them with
paint, ink, markers, etc.)

Related Sale Items
(not included in the Giveaway)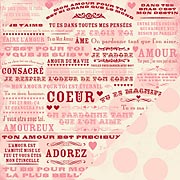 Je t'Adore French Words Scrapbook Paper
12 x 12″ double-sided cardstock. The contrasting triangular corner in the photo is showing the back side only.
Glittered J'Adore Scrapbook Paper
Double-sided 12″ x 12″ cream-colored scrapbook paper with a Paris/Valentine theme, including the Eiffel Tower, accented with fine glitter. The background features a nice, faint bookprint. The back has a distressed floral pattern.
Je t'Adore Fleur Bouquet
New & on Sale! Package contains 1 "bouquet" consisting of; 4 pink rose buds with metallic gold accents and 4 ivory rose buds with glitter accents, 3 pink velvet leaves, and a length of printed, picot-edge fabric ribbon with tulle. All of these items have wired stems and can be used individually. Limited quantity. (We did have these ages ago but they've been sold out for months… so I'll call them "new.")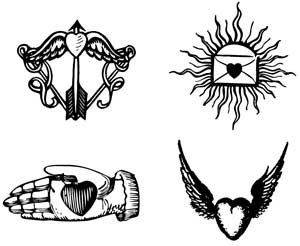 And, 4 more rubber stamps have been added to the 99 Cent Stamp Sale. Catch 'em quick as these will be replaced by different stamps for tomorrow's theme.
4 Heart Icons (shown at left)
Cherub Frame (nice price on the wood-mounted version, too)
Tightrope (from a lovely little Art Deco illustration… where will Cupid's arrow fall?)


Whew! How's that for just the first day?
Here's the recap of the Giveaway Rules again.
Posted by Leslie, November 24th, 2011