Note: most of the links on this post no longer work, as we moved to a new Web site in 2018. But you can try searching on the same names (as links below) on the new site.
Today's Giveaway is full of metal bits & bobs, hardware, old inkwells & bowler hats (and other props befitting Sherlock Holmes).
Note: all the indented items are included in the Giveaway. There are some additional (related) things just put on sale that are not in the Giveaway (down at the bottom of this page).
Also note: there will be 1 runner-up for today's Giveaway. The 4 items in the runner-up's package have red asterisks (*) below.
New & On Sale
(and included in the Giveaway)
Brass Escutcheon Kit
New & on Sale! Where have these been hiding? Limited availability. Pair of Hinges, 4 corners (with faux screwheads), escutcheon with knob and two decorative keys. Nice antiquing. All made for altered books (so the brads on the back are shallow).

Nomenclature Rub-Ons
New & on Sale! Lots of rub-ons to choose from: old inkwells, numbers from hand-crank adding machines & beautiful type on advertisements for shaving soap to woolen tweeds. 5″ x 7-1/4″ sheet.


*Test Lens Necklaces
New & on Sale! Magnifying glass pendant (5x magnification) with 36″ lightweight chain. These are new (not vintage test lenses). 1-3/4″ diameter. Gold or silver plated. (A gold one is included in both the Giveaway and the runner-up's package.)


Attic Window Filigree
New & on Sale! Beautiful little window with open "panes." 38mm (on the diagonal). Vintage patinaed brass. Shown in one of the photos with a Square Brass Pendant Blank. The filigree is also included in the Fringe Embellishments Set.


Not New to the Site, But Newly On Sale!
(and included in the Giveaway)
Altered Office Stickers
6″ x 12″ sheet of die-cut cardstock stickers. Distressed vintage text & symbols over tabs, paper clips, round seals and more.

*Handy Tape
Nifty rolls of adhesive-backed paper measuring tapes – they're for quilting so the adhesive is repositionable. 25 feet per roll.

Sprocket Chipboard
Heavy chipboard die-cut sprocket gears. Each gear is 3-1/2″ in diameter. Set of 8.


Panorama Transportation Scrapbook Paper
Double-sided sheet with hot air balloons, cars, ships, biplanes and velocipedes in sepia brown. Plaid pattern on the back (the triangle of plaid is just showing the back side).

Bowler Dude Rubber Stamp
An industrious man of the late 19th c.


*Hot Air Balloons Collage Sheet

*Steampunk Ready Collage Sheet
Wings, clocks, a pocket watch, numerals around dials, and a caduceus (?!… well, time has flown since that icon was first used; and Mercury certainly flies at the speed of thought). Licensed from the fabulous Teri Calia.


Sold out but included in the Giveaway
(so please don't email me asking how to buy them)
Dolls #4 Cling-Mounted Rubber Stamp Set
The set includes a key, hang tag and a little man collaged out of text, seashells & keys (shown at near left).

Square Clock Pendant w/Rhinestones
A substantial, cast piece with a clear dome over the clock face (in antique black nickel finish).


Related Sale Items
(not included in the Giveaway)
Stitched Brass Corners
New & on Sale! Where have these been hiding? Limited availability. Set of 8. Enough depth for a bookboard cover. Nice antiquing and raised faux stitching.
Faux Test Lenses
New & on Sale! Odd little test lenses (small size… short handle). Gold plated.
Copper Tacks – Tiny
New & on Sale! Approx. 100 tacks per plastic vial. Great to nail around the edges of a frame like studs/decor (not just as fasteners).

Fringe Embellishments Set
New & on Sale! Vintage patinaed brass. A mixed-shape set of 2 corners (1 shown in the close-up… nice embossed details… 20mm x 20mm), 2 swirly bits, 1 square "attic window" (or diamond-shaped as rotated in the photo), 1 long dotted border & 1 small square drop with cut-outs. The Attic Window Filigree is also sold separately.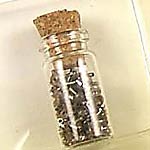 Tiny Time Pieces
Tiny watch parts in a glass jar with cork
More Steampunk Collage Sheets:
– Bicycles
– Cabinet Cards: Men
– Goggles
– Vintage Gents

Note: Most of the sale links from this page go to a page showing short-term sale items in conjunction with this Giveaway.

Here's the recap of the Giveaway Rules. And check yesterday's post for some Halloween items that are still on sale.
So leave me a comment and tell your friends.
Posted by Leslie, December 28th, 2010