Note: most of the links on this post no longer work, as we moved to a new Web site in 2018. But you can try searching on the same names (as links below) on the new site.
I've tracked down lots of cool, aqua ribbons & other embellishments in anticipation of the new swap (and to help you cool off in the dog days of summer). Plus there are 6 new collage sheets.
Mermaid 4×4 Coaster Swap
Here's a bit of the info from the Swap Specs (that's a link to the Yahoo Group, where you can also sign up for the swap):
Theme and Requirements:
Mermaids are the theme and you are required to use 4″ x 4″ coasters available at Alpha Stamps. You are also required to use 1 charm or other dimensional element from AS and one AS image
(collage sheet or rubber stamped) per coaster.
Need inspiration? Check out the Mermaid Swap Gallery!
Fabulous sample artwork by Guest Designers Wendy Anderson and Meghan Chapman.

6 New Collage Sheets
From silly to classical to frightening (temptresses dragging sailors to their deaths).
Mermaid Mix Micro Marbles Set
Our own custom blend! Perfect for a seaside/summer beach project. Micro Marbles are kind of like glitter (or beads without holes). Apply in thin or thick layers for different effects (small enough to look light when spread thin, and you can thicken it a bit and get a deeper hue). Comes in 1 ounce quantity (the same amount as in our 2″ x 3″ baggies of glass glitter), but packaged in a glass bottle with a cork.
4×4 Coasters
4″ x 4″ fiberboard coasters with rounded edges. Easy to paint over or glue onto (so you don't need to care about the silly superbowl themed graphics). And a great price: $2.99/Set of 8
Light Aqua AB 10mm Faceted Beads
Czech fire-polished glass, light aqua AB, 10mm faceted round. (Aurora Borealis (AB) coating is a half-coat metallic finish that adds a prismatic effect to the surface of the bead.) Pendant by Design Team Member Nicole Merkens.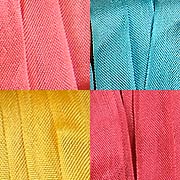 Seam Binding — New Colors Summer 2010
100% rayon. Silky and drapey. 9/16″ wide. Colors are: Pearl Aqua (a little lighter/softer than the Bright Turquoise color), Goldenrod, Posey (a darker/richer pink than Medium Pink) and Bangkok Red (which is a bright coral color)
2mm Silk Ribbons
Tiny ribbons (made for ribbon embroidery, but perfect for small collages) in TEN beautiful, rich hues. The teal-colored ribbon is used in the beautiful 4″ x 4″ sample artwork, by Guest Designer Wendy Anderson.
Metallic Iridescent Ribbons – Additional Colors
Gorgeous ribbons! They have wired edges but as the full width is metallic, they are very bendable (60% metal; 40% polyester or nylon). You can crimp them and they will retain the shape. 3/8″ wide. The colors varies depending how the light catches them. Four new colors.
Mermaids (and 2 more) Stencils
A fun stencil, based on retro, '50s images (3 mermaids and 2 schools of fish). 4″ x 9″ lightweight stencil board (stencils are made thin enough to wrap around curves/corners when stenciling). Use a stencil brush so that your brushstrokes won't push paint under the edges of the cut-out design (or spray with a mister or spray paint to apply your color). The mermaids at the top of the photo are "left overs" after I popped them out of the laser-cut stencil. Treat them as bonus chipboard art fodder. I left one of the mermaid "un-punched out" on the left side. Also (not shown), a birds stencil and an "Art/Not Art" stencil.
Clamshell with Starfish Charm
Raw brass stampings (concave on the back). Perfect for a mermaid's bra, perhaps?
Smaller Raw Brass Double-Sided Seahorse Charms
Three color/size options. This new, smaller seahorse has a bit more texture (than the other raw brass option).
Antique Silver Seahorses
Nicely detailed. 26mm tall. Cast pewter under the silver-plating. Shown (at near left) in a close-up of 4″ x 4″ sample, by Guest Designer Wendy Anderson.
Gold-Plated Mermaid Charm
(Shown at far left.) Beautifully detailed. Double-sided. Approx. 14x24x4mm.

Halloween
(Already?! Again?! Well, yes, a few more Halloween items)
Witches Satin Cutouts Ribbon
A surprisingly delicate design. Just slightly puffy.
Spider Web Satin Ribbon
5/8″ wide satin ribbon, printed in white ink.
Stitched Satin Pumpkins Ribbon
Could be for Halloween or Autumn or Thanksgiving. Sold by the yard.
Black Leaf Dresden Scrolls
12 scrolls per sheet. Individual scrolls are 1-7/8″ long.

Black Wrought Iron Dresden Scrolls
8 scrolls per sheet. Individual scrolls are 2-3/4″ long.
Mad Scientist Wine Labels

Nicely designed: from the cracked-looking texture printed in the background to the small text reading, "Drink at your own risk." Graphics include a skull, a moth and a spider. From the "Grave Hill Laboratory" in Salem, Massachusetts.
Haunted Tree Clear Stamp
Tiny little stamp.
Mad Scientist Favor Bags
Nicely designed: from the cracked-looking texture printed in the background to the small text reading, "Take this treat at your own risk." Graphics include a skull, skeleton hands, a moth and a spider. From the "Point of no return candy company."

Eerie 4-Sheet Scrapbook Paper Set


12″ x 12″ double-sided 65# cardstock sheets with spider webs, bats, black cats, skulls, etc., all in Halloweeny hues of sick green, orange and black. Art samples are by Design Team Member Teri Calia.

Eerie Rub-ons
The rub-ons come in a little booklet with five 4-3/4″ x 4-3/4″ sheets (each sheet with different designs.


Brass Findings (Charms & Settings)
Small Brass Gears
Brass stampings (shown at far right). Available as a set or just order 1 of the 3 designs.
Gloved Hand Charm
Raw brass stampings (concave on the back). Note: only right hands.
Large Fleur de Lys with Loop
Nice size. Raw brass stampings (concave on the back).
Rope Edge Rectangle Pendant
Nice small size (and easy to cut artwork to fit). See the listing for a photo with a ruler.
3D Rose Charm in Raw Brass
Beautiful flower charms.

Raw Brass 18/25mm Setting w/Beaded Edge
The same design as antique silver settings we already carry.
Fancy Oval Settings & Cabochons: 40x30mm
Metalicized plastic setting with an antique gold finish and clear acrylic cabochons. They have a lovely shell design at the top of the scrollwork.
With the large size, you'll be glad the settings are not brass (they look like metal but are very lightweight). Note: the settings have a hollow back (beside using for pendants, or a cartouche on a paper theatre, you could put 2 back-to-back — with double-sided artwork between the 2 cabs — for a beautiful ornament).

Miscellaneous
Industry Clear Stamp Set
Gears, a nail, barbed wire, bicycle chain, nuts and bolts… 3″ x 4″ set.
Black Keepsake Book
Spiral-bound book with heavy, black chipboard front and back covers and 25 blank pages. 6-1/2 x 4/1/2″.

2 New Colors 1/4″ Velvet Ribbon
Olive and Light Blue.
2 New Colors 3/8″ Velvet Ribbon
Purple and black.
Gorilla Glue
Gorilla Glue is a versatile interior/exterior adhesive that is ideal for most household fixes and building projects. Works great on wood, stone, metal, ceramic and more. It is incredibly strong and is 100% waterproof. Avoid contact, wear gloves. Precision glue pen, 3/4 oz. Fast cure, dries White and has a precision applicator for small jobs or tight places. Liquid glue expands three to four times surface area when bonded together. A little goes a long way.
Craft Tray with Funnels

Such a simple thing (adding funnels with screw caps to a tray) but it really helps with getting glitter back into the bottle (and off your desk).
Lever Back Ear Wires
Fleur design. Solid brass with vintage patina finish. 15x10mm

New on Sale!
Brown/Blue Alphabet Stickers
Lower case letters & numbers (full alphabet + numerals 1-9 + zero and an ampersan). Die-cut cardstock with printed texture made of letters & symbols. 8″ x 13-1/2″.
Epoxy Stickers
2 designs (10 stickers in each set; the "love" set is shown at right; there is also a Christmas set). Slightly domed. Round ones are 1″ diameter.

Sultan Rub-Ons
They remind me of henna patterns. Includes 2 elephants. Two color options (orange or aqua/green).

Oval Pendants
Copper-plated cast pewter (gold and silver are already sold out… these are being discontinued so grab 'em quick). 1″ x 1-1/2″ inside dimension — and has a matching paper punch!
Posted by Leslie, July 30th, 2010