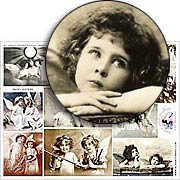 I know! It's a week till Christmas! (Or to Christmas Eve, to be exact.) So, just a couple quick announcements before Miz Bella (Kim Ayers) introduces a great project from that talented Caroline Ouzts-Hay.

First: a reminder that the 33% Off Sale on Christmas Collage Sheets has been extended through Christmas Eve! (and there's still time to download some digital images or collage sheets for making last-minute gifts). AND I just added the Angels and Saints Collage Sheets to the sale, too!

Next: yes, it's that time again: While the Cat's Away… More info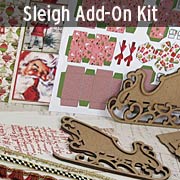 This month at Alpha Stamps it's all about the sleigh, and Design Team Member Caroline Ouzts-Hay has created one with a flying twist. Caroline started out using the Santa Sleigh Kit and Add-On Kit for her project.
"To achieve the rich red on the sleigh I started by stamping the Fancy Flourish Clear Stamp, painted over that with red paint, grunged up the edges with some black ink and then painted over it all with Crackle Distress Paint.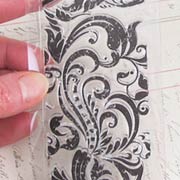 "The gifts are 7/8″ Wooden Cube Blocks wrapped in Christmastime paper. Oh my, this paper is stunning; I prefer the Christmastime 6×6 Paper Pad because the pattern/designs are smaller. Wrapping ribbon around them would have hidden the pretty patterns so I used gold Mini Rosette Dresden Borders to act like ribbon and then tied a bit of seam binding to make the bow on top.
"I made a bunch of wreaths for this project, and I mean a bunch. Tim Holtz's Pine Twine came in very handy. To accent the wreaths on the front and back of the sleigh I added Small Pine Cones, ribbon from the Advent Calendar Tags Ribbon Set, and a few of the Red Glittered Holly Berries."

Now, most people would have stopped with having made the festooned sleigh and pretty presents. However, Caroline decided to put the sleigh up on a block, and then used house facades (including a nice seasonal turn for the Black Chipboard Windows Set for Haunted Houses) and the new 4 Inch Standing Chipboard Trees on the side of it so that it appears the reindeer are flying overhead (and to hide the secret mechanical works inside that black box… more info on that is below).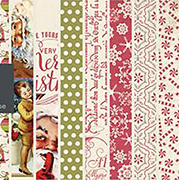 "Let's pause and pay homage to Rudolph. You knew I was going to light something up! Rudolph is a Chipboard Reindeer covered in the scrumptious Christmastime paper with a wreath around his dainty neck. Gold Metallic Mini Braid is used for a harness and his nose (and this is ironic), is made from one of the LED Red Demon Eyes."
Reindeer Do Fly Supply List
After all that, Caroline still wasn't satisfied; so she became the mad-crafter scientist and even got her husband in on her madness to help her create a mechanism that makes the reindeer fly! You can visit Caroline's blog to see how she created the flying mechanism, and to see the reindeer in flight; along with more photos.


Hooray for the Reindeer Do Fly Giveaway!
I began by looking at ALL the supplies from Caroline's project (note: that's a link to photos and links to all of the goodies), then picked out this group for the Giveaway (left to right, top to bottom from those pics at right):
– Chipboard Reindeer Die-Cut Shapes
– Small Pine Cones
– Gold Metallic Mini Braid
– Clear Acrylic Bead Sprays – Asymmetrical
– Christmas Favorites Collage Sheet
– Christmastime 6×6 Paper Pad
– Die-Cut Chipboard Houses with Windows
– Black Chipboard Windows Set for Haunted Houses
– 4 Inch Standing Chipboard Trees

To enter the Reindeer Do Fly Giveaway drawing all you have to do is leave a comment BELOW on this blog post TODAY OR TOMORROW (the deadline is 11:59 pm PST, FRIDAY, December 18, 2015)! And tell me: We're getting close to Christmas… still making presents? (Brave enough to admit) haven't started yet? Any last minute suggestions for gifts or decorations that could be made with downloaded Christmas Collage Sheets?
Don't forget to leave your (hello! correct) email address, too, so I can contact the winner; your email address does not need to be made public. Note: I'm offering free shipping, too, but only within the USA. International shipping will still apply.
Please be patient! Spammers try to post crap here a lot so comments are moderated. So if you don't see your post in the comments section, be patient and check back in a few hours before re-posting it, please!
After midnight, I'll randomly pick the winner (via Random.org). So check your mailbox on Sunday morning to see who won and for the next Giveaway and Newsletter!
Hey, who won the Alice in Wonderland Sleigh Giveaway? That would be Alice Z!
And she replied to my query "Flamingo reindeer? Would you make some to pull your sleigh? Maybe some other chimeric mash-up?"
As a huge Alice in Wonderland fan and collector it was interesting to see something fabulous and related to a different holiday than Easter (All those rabbits, you know). I'd like to thank for teaching me the word "chimeric". But I must admit, I'd rather wee something pulling the sleigh that would look cute with a red nose… perhaps a dormouse or, dare I say it, rabbit head on the reindeer body?

Posted by Leslie, December 17th, 2015