It's always a good sign when varied artwork is inspired by the same idea. So I'm happy to share a new kit ("French Corsets" — and coordinating scrapbook papers from 2 collections PLUS 6 new collage sheets!) and to share artwork from Design Team Member Kristin Batsel and Guest Designer Kimberly Law. Both of their projects are beautiful and quite different from each other.
How cool are those "Corset Trading Cards" by Kristin!? Nicely distressed and she even made a box to store them in. Here's a quote from Kristin's blog post:
When I saw this month's new collage sheets featuring corsets, for
some reason I thought of baseball cards. Wouldn't it be funny if young girls in Victorian
times collected and traded corset cards? With that in mind, I designed a set of cards to
look as though they had been handled and poured over, and perhaps traded with friends. I
also created a box for storage.
Kristin used images from New and On Sale! My Graceful Figure and Decorum Collage Sheets (both are included in the new kit) and the Back in Stock and On Sale!
3 Inch Chipboard Memory Box as the base for her storage box. Here's a link to her full supply list.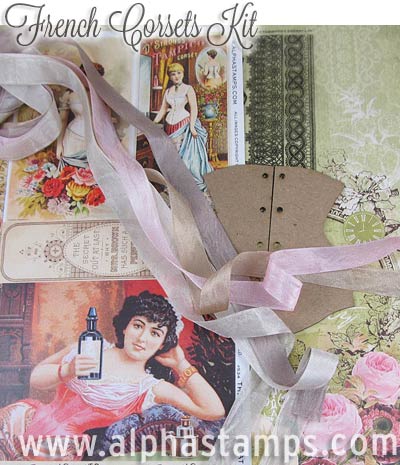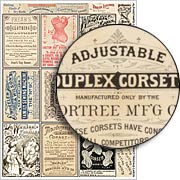 Taking my lead from Kristin's Corset Trading Cards, I created the New and On Sale! Corset Trading Cards Collage Sheet: I sourced, recolored and resized some vintage corset ads to be about 1/4″ shorter and narrower than an ATC (so the black border around the 9 large ads will be inset about 1/8″ on all 4 sides of an ATC — like the backs of Kristin's cards).
And (finally) swinging back around to the French Corsets Kit itself: the theme started with my idea to use half of a corset shape as a book cover (or a page in a corset-shaped book). So when you'd open the book, you would have the full corset shape. Of course, you don't need to make a book to use the chipboard shapes or to enjoy all the pink floral and lacy fluffiness in this kit! More info on all the items included in the kit (that are available to purchase separately) is below, or read all the details on the kit page. See more artwork in the Gallery!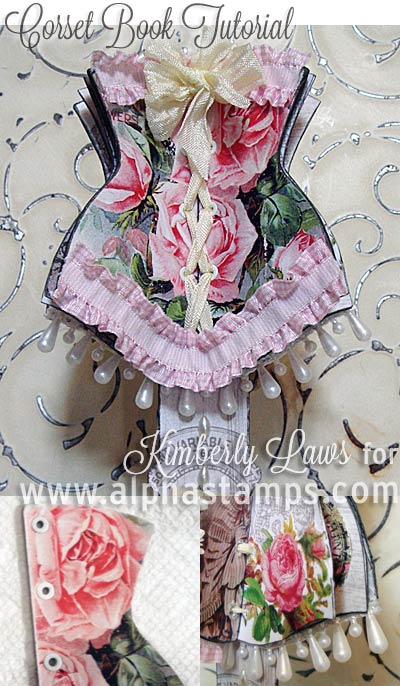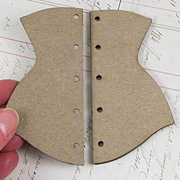 Kimberly created a gorgeous book from the New and On Sale! Die-Cut Chipboard Corsets. (And isn't that clever: the "book" has the cover in the middle, so you can open pages to the left and to right of the cover!)
Note: most everthing Kimberly used is also included in the French Corsets Kit.
A couple of the new items Kimberly used that aren't in the kit are the Teardrop Fused Pearls (Strands) and Pink Ruffled Ribbon.
More info and a link to a tutorial by Kimberly are on their own blog page.
And to wrap up my introduction: in honor of the corsets theme, I've put the ENTIRE Victorian Collage Sheets Section On Sale! Sale ends March 23rd!
Beside more new goodies related to the theme, see below for info about the FREE Gift Kit announced on Thursday's newsletter that's still available! And today's Giveaway!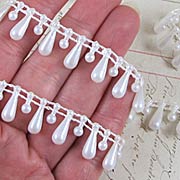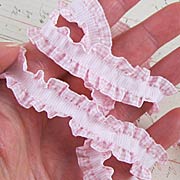 New Items in the French Corsets Kit – All on Sale!

Hooray! A Corsets and Lace Giveaway!
Sweet! Miz Meghan started (!) with a French Corsets Kit then gathered many of the supplies from Kristin's Corset Trading Cards (click the link for a reminder of the supply list), plus these extra goodies that just seemed to be calling out to be included:
– Remnant Rub-Ons – Numbers
– Antique Silver Key and Keyhole Set On Sale!
– Iridescent Plastic Pearls (Strands)
– White Plastic Pearls (Strands)
– Thin Looped Dresden Borders – Gold
– Wooden Knob
– Mauve Rose Wide Lace
– Light Tan Wide Lace
To enter the Corsets and Lace Giveaway drawing all you have to do is leave a comment BELOW on this blog post TODAY (the deadline is 11:59 pm PST, March 2, 2014).
Don't forget to leave your (hello! correct) email address, too, so I can contact the winner; your email address does not need to be made public. Note: I'm offering free shipping, too, but only within the USA. International shipping will still apply.
Please be patient! Spammers try to post crap here a lot so comments are moderated. So if you don't see your post in the comments section, be patient and check back in a few hours before re-posting it, please!
After midnight, I'll randomly pick the winner (via Random.org). So make sure to check back to see who won! And check your mailbox on Thursday morning for the next Giveaway and Newsletter!
Hey, who won the Odd Birds Book Giveaway? That would be Laura (#86 on the comments)! Please check your email for my message about getting your mailing address.
Posted by Leslie, March 2nd, 2014