Note: most of the links on this post no longer work, as we moved to a new Web site in 2018. However, you can see the supply list items from Teri's and Nichola's projects that are still available on the new site.
Another banner day with projects by two talented designers: Teri Calia and Nichola Battilana — plus related new items and a Wonderland Madness Giveaway!
Teri has fallen madly in love with creating Mannequin Art Dolls; and we love that she has: because they're fabulous!
There is so much to take in with both dolls that I am having a hard time trying to figure out where to start! First, the base used for both is the New! 13″ Paper Mache Mannequin and clever girl that she is, Teri used New! Paper Mache Easter Eggs for the heads.
The Nesting Marie Mannequin at right is just gorgeous, with it's tiny little diorama in her middle (with tiny curtains and a scene from a Marie Antoinette painting) and a birdcage in her hair.
And what hair! Teri made an over-the-top powdered wig using New and On Sale! Wool Roving (and I'll bet that just like the real wigs from that era, Teri used a sculpted base so that all of that form isn't made of hair — and lucky for us, Teri's promised to write a future/second tutorial about making her wigs).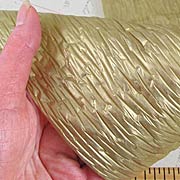 Teri did post a tutorial for us today, with info on how she cut the mannequin and inserted and glued in the masonite shrine and the egg for the head.
Of course, Marie also has to have something gold now, doesn't she? Teri used the New and On Sale! Gold Crinkled Paper Ribbon for the poofs and panniers on Marie's skirt. How perfect is that?!

Here's a link to the full Supply List for the Nesting Marie Mannequin.
The Wonderland Madness Mannequin is a mad wonder! (And we love all things Alice, so today's Giveaway is also Alice themed!)
From the lovely Mad Hatter-ish New! Top Hat (atop another gorgeous wig) to another scene cut into the mannequin's torso (this time with a New! Flocked Mouse, wearing his own tiny top hat), the details are beautiful!
Here's a link to the full Supply List for the Wonderland Madness Mannequin. And more photos of both of Teri's mannequins are in the Gallery.


An Art Fairy by Nichola and Some Announcements
Yes! The design team continues to amaze with the variety of art projects they create using the January Kit! The Paper Fairy at left by Nichola Battilana! From the Autumn Flower Mix on her hat to her fancy wings, she is sure to spruce up any dreary Winter corner of your hosue. And check out how sweet (yet speedy) she looks in Nichola's house in the pics on her blog post! (Where she's been hard to find since "she's been in the pantry eating the chocolate chips!")
Here's the list of other supplies Nichola used.

Now on to some announcements:
BOTH of the current swap due dates have been extended:
Lovesick — A Sweetheart Book Swap has been extended to February 21st
Victorian Paper Dolls Swap has been extended to February 14th.
AND if you want a quick run-down and links to what's currently On Sale (including the Valentine's Day goodies for those 2 swaps), check the Sale Section! I just added some badges at the top of that page so you can jump to whole sections of supplies that are on sale.
But before you run off and get engrossed in reading either blog post (or sale items), don't forget the Wonderland Madness Giveaway, back in stock items, and a recap of Thursday's newsletter — all below.

January 30th Update:
The Wonderland Madness
Giveaway Winner is Beth W!
Hooray! A
Wonderland Madness Giveaway
!
Miz Meghan pulled a lovely group of Alice things (mostly used in Teri's art doll); here's just a few:
– Paper Mache Top Hat
– Flocked Begging Mouse
– Mist-a-bles Scallop Ribbon Set
– Tenniel's Alice Collage Sheet
– Down the Rabbit Hole Collage Sheet
– Go Ask Alice Collage Sheet
– I Wonder Collage Sheet
– Mad Tea 6×6 Paper Pack
– Petite Teastained Purple Pansies and Leaves
Here's the full list (with photos and links) of all the goodies in the Giveaway.
To enter the Wonderland Madness Giveaway drawing all you have to do is leave a comment on this blog post TODAY or Monday (the deadline is 11:59 pm PST, January 27, 2014).
Don't forget to leave your (hello! correct) email address, too, so I can contact the winner; your email address does not need to be made public. Note: I'm offering free shipping, too, but only within the USA. International shipping will still apply.
Please be patient! Spammers try to post crap here a lot so comments are moderated. So if you don't see your post in the comments section, be patient and check back in a few hours before re-posting it, please!
After midnight, I'll randomly pick the winner (via Random.org). So make sure to check back to see who won! And check your mailbox on Thursday morning for the next Giveaway and Newsletter!
Posted by Leslie, January 26th, 2014