You will love this fabulous plaque called Madonna of the Birds that Lora Mahaffey created. Lora was inspired by a recent trip to the National Gallery of Art where she saw an exhibit called, Heaven and Earth: Byzantium Art from Greek Collections. Like a crazed magpie who cackles while drinking champagne, Lora was drawn to the shiny gold halos and Madonnas that were everywhere she turned.
There's so much to love about this piece! Texture, beautiful images, luscious paper and of course, a shiny gold halo! Lora's base for her plaque is the On Sale! Monarch Brocade Varnished Paper using a very cool and easy technique to bring out the pattern of the varnished paper using the New and On Sale! Brilliance Pigment Ink Pad – Galaxy Gold.
Hey, why is that paper on sale? 'Cause the ENTIRE scrapbook paper section is On Sale! (actually three sections: Scrapbook Paper: Single Sheets, Christmas Scrapbook Papers, and Scrapbook Paper Sets ).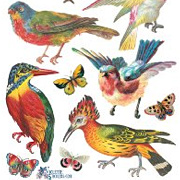 AND you know what else? Since Lora's lovely artwork has lots of sweet little birds, Leslie added a New! Tropical Birds Clear Stickers to today's Giveaway and put the ENTIRE Stickers Section On Sale!! And a reminder: the Steampunk Theme Sale ends Saturday night, January 25th!
Back to the lovely artwork at hand: don't you love the shiny gold halo? It's made from an On Sale! 4″ Paper Doily and in her tutorial Lora is going to tell you what her secret is to achieving such a marvelous golden glow.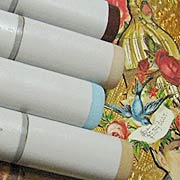 If you've never used Copic Markers I bet you'll want to after you see how Lora uses them. What? You've never heard of them?! Copic Markers are alcohol based, permanent markers with nibs at both ends. The colors are translucent and can be used to spruce up color on collage sheets and other ephemera (as you can see through the color to the printed design underneath). They also make outlining fussy cutting so much easier than trying to use a stamp pad or blending tool!
And what a great idea: tinting that tiny strand of Liquid Pearls "pearls" with the Leather colored Copic Marker (included in the New and On Sale! Madonna of the Birds Set)! You can make pearl trims in most any size or color you'd like!
Here's a link to Lora's Supply List, and fly on over to Lora's blog, where she'll tell some of her secrets in her tutorial. (oooh I love secrets!)

Hooray! A
Birds & Cages Giveaway
!
In addition to a January Kit (so you'll get both collage sheets and some of the scrapbook paper Lora used), Miz Meghan added both of the varnished papers that Lora recolors in her tutorial, some birds and cages not in Lora's project, but the right scale for a similar project (Wood Bird Cages, Bronze 3D Birdcage and Fly Away Resin Birds Set) and these three New and On Sale! bird-themed items:
– Antique Brass Birdcage Charm
– Antique Silver Birdcage Charm
– Tropical Birds Clear Stickers
Here's the full list of all the goodies in the Giveaway.
To enter the Birds & Cages Giveaway drawing all you have to do is leave a comment on this blog post TODAY (the deadline is 11:59 pm PST, January 23, 2014).
Don't forget to leave your (hello! correct) email address, too, so I can contact the winner; your email address does not need to be made public. Note: I'm offering free shipping, too, but only within the USA. International shipping will still apply.
Please be patient! Spammers try to post crap here a lot so comments are moderated. So if you don't see your post in the comments section, be patient and check back in a few hours before re-posting it, please!
After midnight, I'll randomly pick the winner (via Random.org). So make sure to check back to see who won! And check your mailbox on Thursday morning for the next Giveaway and Newsletter!
Hey, who won the Romantic Steampunk Giveaway? That would be Bobbie Kangas! Please check your email for my message about getting your mailing address.
NOTE to KATHY, who won the Ribbon Skirt Giveaway: the email address you entered bounced, so you have until this Sunday, January 26th, to contact John in Customer Service before I draw another winner!
Posted by MizBella, January 23rd, 2014