Updated Small Frame Shadowbox! This heavy chipboard shadowbox used to fit the back of a white wooden picture frame but now has a wider front facade (chipboard) and has TWO NEW collage sheets with picture frame images sized to match.
Pretty tiny (the inside shadowbox is approx. 3-1/4″ x 4-3/4″ and 2″ deep). The outside of the frame is approx 5″ x 6-1/2″. You can use the shadowbox tall or wide orientation. See art samples below for both orientations!
A quick note: beside putting everything in both supply lists on sale, I added a few possible substitutes to the sale, too! AND everything NEW or back in stock mentioned in this newsletter has also been added to the sale collection! (More info below.)


Aw… I've always loved this tiny yet jam-packed shrine by Nichola! And either of the frames from the new Rustic Shadowbox Frames Collage Sheet would be perfect for a grungy frame to mimic the 3D wooden frame. From Nichola's original post:
I wanted to create a space filled with bits that might have been collected on adventures, an assortment of oddities. A sort of kooky gentleman's library, or study.
Every gentleman's library needs books. These shelves are filled with them! Well… not really… they're simply facades cut from the Window Card Cabinets Collage Sheet.

There are A LOT of amazing little oddities in my collectors room. All of the products used are listed below but some of my very favourites that deserve and extra shout out: Miniature Flying Bats, Pewter Candlesticks (note: Half Scale Metal Candlesticks were subbed for this 2023 supply list & sale)… That wee American Crow ain't so bad either!
[Aside: I love that this gentleman's study includes Tiddledy Winks! Also note that the 10mm Glass Marble Nichola used as a crystal ball is back in stock!]
Check out Nichola's blog post for more info and photos. Note: use my links here for the supply list as the site moved since Nichola posted that artwork.


More NEW Goodies and in today's sale, too!
Any/all of these could be used in either art project (I can especially see that globe in a gentleman's study).
I've added ALL of these new items to the sale collection! See below for more info on the COUPON sale!


FREE Gift with Orders
A Hodgepodgery Gift Kit is FREE with all orders placed today through Wednesday (ends at midnight November 1, 2023)!
Three of these items are new or back-in-stock today; 1 is borrowed from Nichola's supplies. And ALL of them would look grand in a busy study like Nichola's artwork above.
One each of:
– Petite Bronze Crown Charm
– Larger Squishy Bats
– Tiny White Turquoise Skull Beads
– 10mm Clear Glass Marbles
– Plus 1 Polymer Clay Red Devil Cane (otherwise sold out).


Small Frame Shadowbox SALE (and the 2nd art project)

Shannon Cooper's Odd Doctor Olaf's Room of Hodgepodgery uses the Small Frame Shadowbox turned sideways with lots of half-scale goodies!
Shannon's post includes lots of photos (and a tutorial for turning TINY half scale wine bottles into potion bottles). Note: use my links here for the supply list as the site moved since Shannon posted that artwork.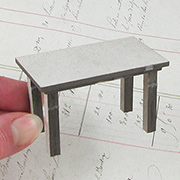 I started with a wee Simple 1:24 Table, a few glass bottles, and basswood strips and eventually ended up with Odd Doctor Olaf's room of hodgepodgery.
The table might be my favorite part because I wonder what that queer doc is concocting! The wooden tray is made from a 1/4″ wide Basswood Strip, and the syringe is a ball-end head pin with thin wire wrapped around the top and then glued into a small glass bugle bead. (Aside: that girl is SO clever!)
I'm going to point out a couple more wee things from the top of the photo at right:
– Jet Black 4mm Smooth Rondelles (they look almost chunky as bottle stoppers in this scale: 3 are on the shelf above table).
– See that little pic (above) of Shannon holding a Half Scale Wine Bottle (reshaped into a potion bottle by Shannon) for an idea of how small the bottles are.
Use coupon SMALL-FRAME when checking out to get an additional 20% off on EVERYTHING in this collection! That's 20% off beyond current sale prices! Over 30 items!
The sale ends WEDNESDAY NIGHT, November 1st at midnight PST.
Posted by Leslie, October 29th, 2023