The Easter Covers for Mini Shadowboxes are back! Downsized so that all 3 shapes fit the Mini Shadowbox – 2×3! Aw… so sweet! These are flat, heavy chipboard covers. There's an egg and 2 bunny rabbits in the set.
And the same 3 designs are also available as separate lids (with cute scalloped edge on the sides — see all 3 directly below). BONUS: the related lids have been added to the FIRST of today's sales!
There's cute artwork by THREE Design Team Members using the Easter egg shaped cover, farther below. I've put everything in ALL THREE supply lists on sale!
The second sale is on ALL Easter Collage Sheets (lots of options from banners to mid-century kitsch to pretty florals).


Related Cuteness
Before seeing the cute artwork, how about some even tinier chocolate bunnies!?
See that photo at right for an idea of just how tiny — and ideas for using a foil-covered chipboard bunny or some new polymer clay slices to fill the new Tiny White Chocolate Bunny Boxes!
Note: I've added all these items to today's sale! See below for the coupon info.


Artwork x3!
Eye candy from THREE talented ladies, all using the egg-shaped cover! (That flat cover was in an Easter-themed kit ages ago… the kit is sold out but most things in the artwork is back or still in stock!)
Starting with KRISTIN'S Bunnies Box at left! Great ideas: Chop up that basket if it doesn't fit! Glue eggs & chicks & any other small thingy you want to stay put on little stands to help anchor them!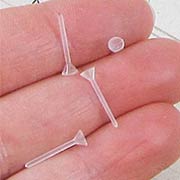 I love the tiny basket, but it was a bit too wide to tuck back into the corner of the box, so I took some heavy duty scissors and cut the back part out. It was also a little bit too tall, so I cut the bottom part off as well (after this photo was taken). Once the basket was cut to size, I glued it to the back and bottom of the box with some white glue. When it's filled with a little Easter grass and some eggs, you can't tell it's been cut.
You can see everything Kristin used in this supply list.
NEXT UP: A whole different look and feel (and a shallower depth) from Nichola! (Nichola used the flat cover over chipboard, adding some foam to provide a bit of depth).
The main images of fairies are from the Pink Children's Theatre Collage Sheet.
Moss and paper flowers are tucked into the edges. And finally fussy cut paper butterflies from the English Fairy Garden Collage Sheet are added! So cute!
Here's Nichola's supply list.
Finally, see the wide photo below for A Little Blue Bunny by Lora!
I included a close-up of the shadowbox at an angle (in the top right) so you can just barely make out the wooden disk (button? tiny spool?) that the bunny is attached to (to keep him hovering off the ground and to give him dimension). Also, in the lower right you can see how Lora built up the background with chipboard underneath of a strip of the blue scrapbook paper (I love the fairy wings on the bunny… and all the doodling Lora does, too!)
Here's Lora's supply list (and remember that all these supplies are in today's sale collection)!


More New or Back-in-Stock Easter Goodies
There are those Mini Pin Stands and Yellow Baby Ducks I mentioned from Kristin's artwork!
And the new polymer clay slices shown with the tiny white boxes above.
Note: I've added all these items to today's sale! See below for the coupon info.


FREE Gift with Orders
A Bunny & Easter Eggs Gift Kit is FREE with all orders placed today through Wednesday (ends at midnight March 22, 2023)!
The set includes:
– A Miniature Brown Bunny Rabbit and
– A pinch of the new Easter Eggs Polymer Clay Slice Mix!
Note: I added the Miniature Brown Bunny Rabbit to the sale collection, so see that coupon below, if you want to buy more!


Easter Eggs & Bunnies SALE
I've already highlighted a few items from the Easter art projects in this collection (but I picked out a few more, shown below).
Use coupon EASTER when checking out to get an additional 20% off on EVERYTHING in this collection! That's 20% off beyond current sale prices! Over 20 items! And remember all those new Easter goodies shown above are in the sale, too!
Don't forget the separate Easter Collage Sheets section is also on sale (the two items shown at right are from that group — use the same coupon for both collections)! Over 20 more sale items!
The sale ends WEDNESDAY NIGHT, March 22nd at midnight PST.
See the artwork supplies sale collection here!


12mm Mini Speckled Bird Eggs

12mm Wooden Drawer Pull or Box Feet

Happy Easter Collage Sheet


(Bunny in Lora's art)


Bunnies Collage Sheet
(Bunnies banner (and mom bunny)
in Kristin's art)

Mini Shadowbox – 2×3

Just Wings Collage Sheet
Posted by Leslie, March 19th, 2023