Holiday Closure & After-Christmas Sale
It's Day THREE of this week of While the Cat's Away Sales & Giveaways! (Can you believe it? This is the 15th Annual Cat's Away Sale!)
Remember, the shipping staff are on vacation till January 3rd, but for sale prices and/or freebies, I think you'll be able to wait. Shipping will BEGIN on January 3rd, so you'll need to be patient if you're ordering during this sale. More info on the sale and holiday schedule.
On to today's goodies: THREE sales, a FREE GIFT with all orders, and a Giveaway!

ONE: ALL Scrapbook Paper is on sale at 40% off!
Plus clearance paper is on Sale at 50% off!
Note that this group includes single sheets, paper sets, vellum and rice paper! Over 250 items!
Those examples at left and right are related to today's Chocolate Shop Theme: Antique Roses 12×12 Paper Pack and Heartland Scrapbook Paper – Kiss Kiss!
The paper sale ends Sunday night, January 1st, 2023 but first come, first served and most of the papers will not be reordered! I will merge orders if you order multiple times during the sale.
View all the scrapbook papers here!

TWO: ONE-DAY SALE on ALL Supplies from The Chocolate Shop by Laura Carson
This is a combo of both The Chocolate Shop itself (mainly showing the store windows, filled with sweets) AND also the separate post from Laura's blog for "just" making the sweets. The store is from Laura's multi-part The Streets of Paris. It was a series of post leading to building a group of miniature Parisian shops in 1:12 scale. You can see all the posts from the series.

Wow! Isn't that stunning?! The perfect additions to the sides of the shop (and even lit up to show the tasty treats)! Lucky for you: Laura shares all in her tutorial video!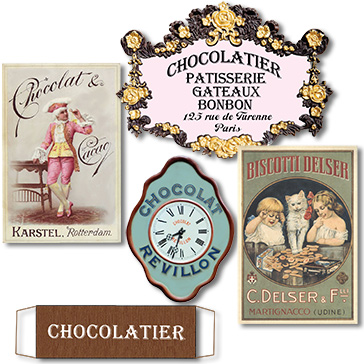 There are 3 related 1:12 scale Rectangular Bay Windows, all sized to fit on the 2-Story Room Box French Quarter. Laura uses two of them as display windows for her Chocolatier.
(Note: the narrower window fits the width of the window on the Storefront Room Box.)
There's also a Chocolate Shop Digital Set (and Collage Sheet) with items to decorate the inside and outside of a chocolate, patisserie or cake shop. And a Chocolate Shop Bags & Boxes Collage Sheet, with a big group of chocolate shop box and bag designs (you can see a couple of the shopping bags below in the photo of the display window included in today's Giveaway).
From Laura's blog post:
The bay windows, which I think are the star of the shop, are made using easy-to-assemble chipboard kits. I've used two of the three styles for the Chocolatier. The Chocolate Shop digital image set contains a series of awnings that are sized to fit the new windows.
Use coupon CHOCOLATE when checking out to get an additional 20% off beyond current sale prices on everything in BOTH of Laura's supply lists: the sweets and the shop structure!
The sale ends TONIGHT, December 28th at midnight PST.

THREE: ONE-DAY SALE on Tiny Cakes!
A few of these are also in Laura's supplies, but there are bunches more resin cakes (and baking things) in the miniatures section in this group! Over 30 items!
BONUS: a Mini Cake Set FREE Gift! That set of 3 cakes plus the round serving tray is FREE with all orders placed today (December 28, 2022)! Those chocolate cakes are: Miniature Chocolate Cake, Chocolate Rolled Cake with Cherries and Mini Sponge Cake with Chocolate Frosting (all 3 are in Laura's supply list, so are included in the sale).
Remember to use the coupon CHOCOLATE for an additional 20% off when checking out — it applies to this collection, too!
The sale ends TONIGHT, December 28th at midnight PST.

Hooray for the Chocolate Shop Window Giveaway!
Oh my… there are so many pretties in this project, I didn't know where to start. I decided on the Rectangular Bay Window – 2 Columns (and a bunch of the items displayed inside):
– Rectangular Bay Window – 2 Columns (note that Laura turned the window around, so the side with windowpanes is papered over and is now her back wall)
– Chocolate Shop Collage Sheet (poster on the back wall of the window)
– Chocolate Shop Bags & Boxes Collage Sheet (pink shopping bags in the window display)
– Mini Chocolate Labels Collage Sheet (labels on the candy boxes at right)
Moving on: some of the polymer clay canes Laura sliced up to make candies (I'm cheating a bit here, as the boxes of candies are shown inside the shop — preview at right from Laura's "making sweets" post):
– Polymer Clay Cane – Red Hearts
– Polymer Clay Cane – Rolled Cake with Cherry
– Polymer Clay Cane – Red & White Rolled Cake

Finally, back to the glass display shelves inside the window at left, these were used to make the glass display (or are substitutes — and are in the sale, too):
– Fancy Square Bronze Fretwork Filigree
– Antique Gold Large Rondelles
– Sparrows Compass Brass Link
– Raw Brass Box Feet – Cones
Note: you can check out the Glass Displays post for more info on how some of those Giveaway items were used to make the glass case shown inside the window (and shown at right).
I'm also including the Mini Cake Set FREE Gift set shown above in the Giveaway!
To enter the Chocolate Shop Window Giveaway drawing all you have to do is leave a comment on this blog post TODAY (the deadline is 11:59 pm PST, WEDNESDAY Night, December 28, 2022).
Don't forget to leave your (hello!) correct email address, too, so I can contact the winner; your email address does not need to be made public. Note: I'm offering free shipping, too, but only within the USA. International shipping will still apply.
The winner will be announced TOMORROW in the DAY FOUR Cat's Away Newsletter (with a New Sale)!
Oooo! Who won yesterday's Tombstone Attic Set Giveaway? That would be Denise Bryant! Check your email (early next week) for more info.

Posted by Leslie, December 28th, 2022