Cute stuff! I love the color palette and the reproductions of Victorian ephemera in this new collection! There's a Christmas Flea Market Finds 6×9 Paper Pad (prints from vintage postcards, quilts and other fabric prints (some of embossed velvet), and cabinet card frames) plus TWO sets of die-cuts and TWO clear stamp sets.
Check the sample cards below for inspiration (mix-and-match layering die-cuts over paper, then add some faux postage cancellations or a Christmas greeting via a stamp).
And ALL these sets are included in today's sale! More info below!


Artwork x4 (!) using Tiny Diorama Boxes
Wow! Talk about versatile! We've got 4 samples all using the Tiny Diorama Boxes. (It may look like more than four, but that first wide photo below is one reproduction in the center with 2 vintage boxes, to show the amazing job Kristin Batsel did of matching the style!)
You may not have access to a vintage ornament box, but here's how you can get the the same look of one with some supplies from Alpha Stamps. I used scrapbook paper for both the inside and outside of the box, fussy cutting elements of some of the paper to create logos and box design. In the photo below, the two boxes in back are vintage; the one in the front is a fake.
Note: I added the Vintage Christmas 12×12 Collection Kit to the sale as an option to substitute for the scrapbook papers Kristin used.
Read more in Kristin's blog post (including a mini tutorial on how she replicated the vintage look) and/or see everything from her supply list.

TWO Diorama Box Ornaments by Teri Calia (And turning the box sideways for a quick Santa hanging ornament by Nichola Battilana)!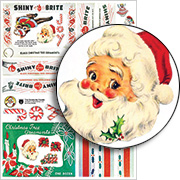 Aw… how cute it this?! Not only did Teri make a collage sheet (with miniatures of 2 different vintage ornament boxes, resized to fit the front (and sides) of the Tiny Diorama Box) but she also made 2 ornaments!
A BIG THANKS goes to Kristin Batsel who was kind enough to photograph her vintage ornament boxes for me! After getting my hands on a hard copy of said collage sheet, I proceeded to craft my heart out and produced two little ornament box ornaments. They are decorated both front and back. I think they are pretty darn cute and will look adorable hanging on a Christmas tree!
Read more (and see more photos) in Teri's blog post. And here's a link to her supply list.

Finally (and a bit out of order as Nichola's ornament is at far left, covered in the stripey paper): Vintage Christmas Box.
The new box is quite sturdy and it's a fun size to work with. It's not itty bitty so those who don't work in miniature will undoutedly find it relatively easy to work with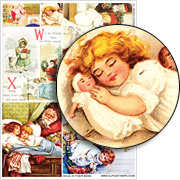 The Santa image is from the Snug In Their Beds Collage Sheet. Some Wired Pine Needle Stem accents the opening of the frame. For some added chilly winter effect I applied some glitter to berries.
Note: I added Jingle Bells to the sale as an option to substitute for the berries.
See more photos in Nichola's blog post.
EVERYTHING in Nichola's Supply List (and the lists for Teri and Kristin, too!) are included in today's sale!


NEW: Tiny Diorama Boxes SALE
This is a coupon sale in honor of ALL of the art projects above! (AND all the new Flea Market Finds!)
But first: a Gift Card Box with Window Lid is FREE with all orders placed today through Tuesday (ends at midnight November 22, 2022)! It's an even smaller version of the box used in all the artwork above.
Approx. 3-1/2″ wide x 2-5/8″ tall. (Fits a gift card with a bit extra room in the height — there's a photo with a card on the gift card box page).
Plus the Gift Card Box with Window Lid and the Gift Card Ornament Box Facades Collage Sheet (at right; with matching images for the gift card box) are both included in the sale!

(More) bonus items added to the sale (extra papers and trims for using with the Tiny Diorama Boxes):
– Hello Christmas 6×6 Paper Pad
– Simply Christmas 6×6 Paper Pad (includes a stripe like the paper in Nichola's project)
– Tiny Red Ric Rac Trim
– Red and White Mini Gingham Check Ribbon
– Even Smaller Paper Theatre Boxes (another box option with a similar window in the lid)
Use coupon SHINY when checking out to get an additional 20% off on EVERYTHING in this collection!
The sale ends TUESDAY NIGHT, November 22nd at midnight PST.
See the entire sale collection here!

Posted by Leslie, November 20th, 2022