We're finishing our Christmas in July Sale this week with a fun & festive Santa's Workshop Diorama by Design Team Member Laura Carson!
I've pulled together a Milk & Cookies Gift Kit in honor of the sweet plate of cookies left for Santa in Laura's artwork (plus the gift includes fluffy snow as there is sparkly snow and icicles all over Laura's project)! Beside the Chocolate Chip Cookie Polymer Clay Slices (and the snow already mentioned), I'm splitting up a few of the Classic Christmas Chipboard Die-Cuts sets as the images are perfect for this theme (gingerbread men — and houses — sugar cookies, stockings, holly, etc.). You'll get a mix of sizes and shapes from this die-cut set in your gift.
The gift kits are FREE with all orders placed today through Saturday (ends at midnight July 30, 2022)!
Plus I made a new collection from the BIG supply list from Laura's project (plus some bonus items!) — and put them all on Sale! More info below!


Santa's Workshop Diorama by Laura Carson!
Wow! Laura Carson has created a whole Santa's workshop village using three of the Large Haunted House Shadowboxes! (Plus a bunch of chipboard trims AND miniature toys). I'm going to show a couple of photos, but check Laura's blog post for lots more pictures and a tutorial!
Laura designed FIVE collage sheets for this project (tons of vintage toys, plus deer and elves and icicles)! Laura used 5 of the Small Wheeled Platform to make two connected "trains" for the elves to transport toys to the wrapping department or wrapped presents to Santa's sleigh.
Things are hopping at the North Pole where Santa's Workshop is in full swing pumping out toys.
Everything in this wintry scene is covered in sparkling ice and snow. In the center is a decorated tree standing on a giant drum, near Santa's sleigh. Laura includes a section in her tutorial on making and decorating the sleigh.)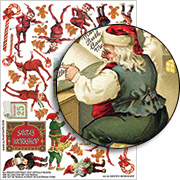 If you peek in the windows you'll see lots of toys and elves at work. Santa's doing his last minute check of his list.
I zoomed in on that "Santa in the window" scene on the right of the wide photo below. The detail in this whole project is amazing… from the snow in the windows to the room in the little cubby behind the "glass" window panes.
Note: I've updated the supplies to include more toys and trees and gift boxes… plus there's an extra sale on Toys Collage Sheets for even more toy options!
Nice job, Laura! See below for another close-up photo of the artwork. Be sure to visit Laura's blog post for more tips & tutorial pics! (We've updated our site software so use this supply list.) But don't forget to come back for the sale (actually two sales) — and to get a Milk & Cookies Gift Kit!


NEW: Santa's Workshop SALE
This is a custom collection that includes ALL the supplies from Laura's Santa's Workshop Diorama artwork! Note: I snuck in quite a a few substitutions, too (like the Small Painted Metal Rocking Horse at right, which is also back in stock). Over 40 items!
And I also put ALL of the Toys Collage Sheets on sale! So in addition to these 2 sheets of toys in Laura's artwork, you'll have tons more toy options!
Use coupon XMAS-TOYS when checking out to get an additional 20% off on EVERYTHING in both collections!
The sale ends SATURDAY NIGHT, July 30 at midnight PST.
See the entire sale collection here! Plus here's the link to all the extra Toys Collage Sheets on sale.

Posted by Leslie, July 28th, 2022