It's almost summer solstice. That may not mean "mid-summer" but it always makes me think of A Midsummer's Night Dream and visiting the Shakespeare Festival in Ashland. (Lucky for us, Laura Carson made a paper theatre of that play!) Plus summer means gardens so I also thought of another sweet garden shown below.
So… one thing led to another (including a new tea cup below) so I picked out this Tea & Posies Gift Kit! It's FREE with all orders placed today (June 16, 2022): all of the tiny goodies shown at right!
Plus I made a new collection from the supply lists from BOTH projects featured today — and put them all on Sale! More info below!

The Shakespeare Theater Presents A Midsummer's Night Dream by Laura Carson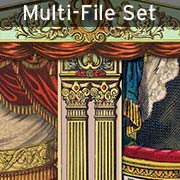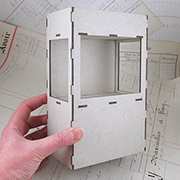 Laura has made a colorful (and fancy) paper theatre, The Shakespeare Theater Presents A Midsummer's Night Dream, from the Punch & Judy Theatre (in the center, along with an Arch Top Theatre Facade), plus a big bunch of images from collage sheets and print-outs of digital image sets.
Only the center of the theatre is a 3D item! The box seat on the sides are flat chipboard and paper. Laura bent the 2 print-outs at the bottom of the box seats so they would bow out a little, giving the appearance that the sides are as dimensional as the center.
See more in Laura's blog post (with more tips on building her theatre), and here's her supply list. Check below, too, 'cause EVERYTHING in Laura's supply list is included in today's sale!


Design Team Member Nichola Battilana brings you a whimsical Room Box of Mr. McGregor's Garden.
If you need help recalling who Mr. McGregor is, he is the big old meanie who tends the garden that Peter Rabbit and Benjamin Bunny 'visit' in Beatirix Potter's books. That's Peter's jacket on the scarecrow. He lost it in the garden after his mother warned him not to go there.
This corner of the McGregor's Garden was created using a Corner Room Box as a base with a Small Stone Wall Stencil and plaster to achieve the wall. Although difficult to see, there is a brick path edging the soil. Can you guess what was used for the soil? Tea!
The pretty flowers and clay pots scattered in the garden, like the English Flower Box are super cute. I think they add a touch of extra colour which compliment Peter's blue jacket. And did you notice the brass buttons which Peter was so proud of in the story? They are 3mm Brass Flat-Back Studs.
Also worth noting in Mr. McGregor's Garden is a Mini Wrought Iron Fence that Nichola painted white.
Pay a visit to Mr. McGregor's Garden at Pixie Hill for more photos and to say hello to Nichola.
But note: it's been quite a while since this project, so here's the correct Supply List. (Also in the sale below!)

New Garden-y Miniatures!
A petite statue or some urns… and a cup of tea to enjoy in your fantasy garden.


NEW: Midsummer SALE
This is a custom collection that includes the ALL the supplies from BOTH projects above! Those images at right are from the Mischievous Cupid Collage Sheet, which Laura added some fairy wings to (used in the center of her theatre).
Use coupon SOLSTICE when checking out to get an additional 20% off on EVERYTHING in this collection!
The sale ends SATURDAY NIGHT, June 18th at midnight PST.
See the entire sale collection here!

Posted by Leslie, June 16th, 2022