Clocks! 3D clocks, 2D clocks with movable parts! Today is all about clocks and I was daydreaming about "Hickory Dickory Dock…" and came up with this Cat & Mouse Gift Kit! The inclusion of so much orange & black (and that black cat) will make more sense when you see the second project.
FREE with all orders placed today (June 9, 2022): all of the tiny goodies shown at right! Yes, I did sit that wee mouse on the pumpkin bead at far right.
Plus I made a new collection from the supply lists from BOTH clock projects featured today — and put them all on Sale! More info below!

Wow! I love this Miniature Weasley Burrow Clock by Nichola Battilana. Nichola used the 1:12 scale grandfather clock (there are also larger and smaller versions of the same design).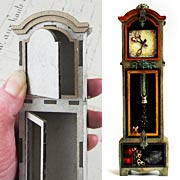 Do you know this clock from Harry Potter? "The clock owned by the Weasley family which individually monitored each of their whereabouts. Located in the living room at The Burrow, the clock had nine golden hands, one for every member of the household."
I've only used three spoons as the hands on the face. (It really should be 9 golden hands if you want absolute authenticity.) Any more seems to get a bit thick where they overlap. If you wanted to add more, I would suggest cutting the handles and placing them 'just-so' to circumvent the issue of over thickness.
There is a drawer that fits into that bottom area of the clock. After applying so many layers of filler and gesso it becomes a bit of a tight fit. I like the idea of the Weasley's tucking things into every available space so I've used this area for storage. Paper scrolls, Half Scale Wine Bottles that look just like little potion vials, Pumpkin Pods and a Mini Black Cauldron are all crammed into that little space.
Read more (and see more photos) in Nichola's blog post. But note: it's been quite a while since this project, so here's the correct Supply List.
Psst! Check below, too, 'cause EVERYTHING in Nichola's supply list is included in today's sale!


NEXT UP! FUN orange and black artwork and a tutorial by Design Team Member Shannon Cooper on creating fun to make (and fun to play with) Halloween Clock Spinners!
Shannon obviously had a blast playing around with the different combinations on the Halloween Clock Spinners Collage Sheet. From the little door that opens to show the devil (an articulated, poseable devil — from the Halloween Jumping Jacks Collage Sheet), to the photo below showing options for spinning a witch to 2 options of spinning moons.
The Halloween Clock Spinners Collage Sheet (oh how I love thee!) has lots of images that will work with the grandfather clock and I had a frightfully good time changing out the rotating part. So fun!
Note: that chipboard grandfather clock Shannon is referring to is artfully painted to look vintage — covered in Shannon's tutorial.

And Shannon went on to make ANOTHER clock (see below), this time with a door she wrote on as part of a shadowbox.
While I was feeling all vintage Hallowe'enie, I kept on crafting and assembled a little shadowbox to hang on the wall.
I used wool roving for the wind, shaping it with my hands and then covering the wispy pieces with a glue/water mixture, then letting it dry. The leaves were punched from really nice/thick crepe paper.


Five little pumpkins, sitting on a gate.
The first one says, "Oh my it's getting late."
The second one says, "There's witches in the air."
The third one says, "But we don't care!"
The fourth one says, "Let's run and run and run!"
The fifth one says, "Let's have some fun!"
Then oooooo went the wind and OUT went the light!
Five little pumpkins rolled out of sight!
Read more of Shannon's fun in her blog post. And here's a link to all her supplies.


NEW: Grandfather Clocks SALE
This is a custom collection that includes ALL the supplies from BOTH projects above! Note: that pretty charm at right is back in stock (mixed in with lots of brass filigree that Nichola painted a patina green).
Use coupon CLOCKS when checking out to get an additional 20% off on EVERYTHING in this collection!
The sale ends SATURDAY NIGHT, June 11th at midnight PST.
See the entire sale collection here!

Posted by Leslie, June 9th, 2022