I was inspired by TWO Miniature Room Boxes by Nichola Battilana (and you know with artwork by Nichola, there will be fairies involved!) — eye candy and more details below (plus the supplies from BOTH are included in todays sale)!
But first: New and back-in-stock items are immediately below AND a FREE GIFT with all orders placed today (May 19, 2022): Dried Lavender Buds! Whether you'd like to recreate a fairy laundry or a rustic shed, some lavender would fit right in!


The Wandry Room uses the Corner Room Box and is just like a boring laundry room… only for fairy wands and wings!
"Inside! I am smitten. I can't hardly believe I made it with my own stubby hands. There's a lot going on in there. Including a bottled magic, soap, baking soda, wand and wing starch, bars of soap, buckets, and a wandry machine for getting tough wand stains."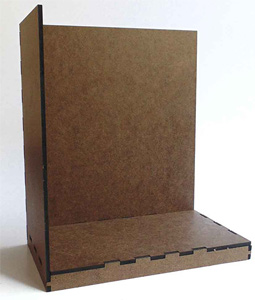 That Corner Room Box! Such a simple little corner of a room, but you'll find so many uses for it! Laser cut from heavy chipboard, so nice and sturdy. Add some shelves… maybe some counter furniture for a little store? And it can be assembled so that the corner is on the right side instead of the left.
I'm also smitten with Nichola's The Wortcunner's Shed, which uses the Frame Front Room Box (cut from sturdy thick chipboard, so that windows can be cut into the piece wherever you please — see the sale below for the windows Nichola added).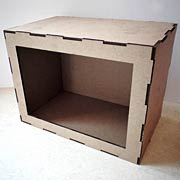 "A wortcunner is sort of an old fashioned word describing someone who works with herbs. The term would generally be applied to wise women, though some modern witches who use herbs magically use the term too.
"In every little room or house I create there is always something that I am most proud of. It may not be the fanciest or best part… but it's something I love. In this piece it's the little wood stove. The pipe reaches up through the ceiling and out to a mossy roof.
The Wortcunner's Shed Supply List
Note: there are lots more photos of both of Nichola's projects (but they were created ages ago so the links on her posts are to our old site). For the inspiration and more of Nichola's text: The Wandry Room and The Wortcunner's Shed.

NEW: A Fairy Laundry or an Herb-Drying Shed SALE
This is a custom collection that includes the supplies from BOTH art projects by Nichola! Note: I snuck in quite a few substitutions, like lichen on that "mossy roof."
Use coupon FAIRY-LAUNDRY when checking out to get an additional 20% off on EVERYTHING in this collection!
The sale ends SATURDAY NIGHT, May 21st at midnight PST. Over 30 items!
See the entire sale collection here!

Posted by Leslie, May 19th, 2022