Such a simple thing and sooo useful! Yes, those little flat-back resin skulls are back!
See two fab projects by Teri Calia below (using them as decor/texture on furniture, then painting them to match the whole piece of furniture).
There's also a before-and-after photo below of a similar technique by Teri for using Dresden as texture (any color will do!) then painting to unite the whole piece.
The supply lists for both projects have been added to a new collection and put on sale! Plus some extras that I picked out that would fit right in with the spooky scenes! More info below.


Packing for a Trip to Transylvania: Wow! Feeling like a Halloween project?! This should give you lots of inspiration.
Teri started by gluing TWO of the Corner Room Boxes together (to make an "L" shaped room — trust me… or check out her blog… so many cool things to show from her project that I can't fit all the photos in!) Luckily the walls that form the corner can be configured on the left or right side of the platform. Plus Teri shows how she filled in some gaps then papered over the whole thing so you can't tell it's two room boxes underneath.
Note: we moved Web sites since Teri's post, so come back here for links or to see her supply list.
I love how she recolored all the furniture (those pieces started out stained in various wood tones). See the wide photo below for a preview.
Teri also used all 3 sizes of tiny suitcases and a Chipboard Steamer Trunk for her packing scene.


There's another view of this wonderful project! I already mentioned the Steamer Trunk (but not the Red Suede Paper and Antique Brass Mini Oval Drop Handles on those bottom drawers).
Note: There's a new Upholstered Armchair today that can substitute for the armchair Teri used (and included in the sale, too)!
I also added the 1:12 Shelves – Set of 2 to the sale as a sub for that shelf on the wall (where I spy another set of the resin skulls).
Here's a bit by Teri about her project:
When I build a miniature scene in a room box, I like to add the pieces I plan to use slowly and move them around until I find just the right balance… I usually glue everything down, but, this time I decided to use Museum Wax to fix the pieces in place so I could redecorate later if I want to.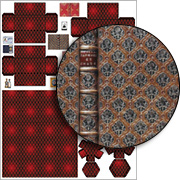 By the way, I created a collage sheet with drawers for the Steamer Trunk but I ended up using them inside out because they clashed with my black and white damask exterior paper, lol.
Nice work, Teri! See everything Teri used in the Supply List. And see more photos on Teri's blog post.


I know! A whole 'nuther project by Teri!
Rose Ella's Reading Room or a Witch's Grimoire is a whole scene inside a Large Faux Book Box! Note: the wooden corner bookcase Teri used is sold out BUT the 1:12 Corner Cabinet fits perfectly inside the book (so it's been added to the sale collection)! You can leave the doors off of the cabinet to let the items on the shelves show more.

Scroll down just a bit and you can see that before-and-after photo I mentioned (for using Dresden as texture then recoloring to match the furniture).
Beside a tons of little props on those shelves, I've added a few substitutes to the sale for this project:
– Mini Gargoyles (!)
– Set of Gold Oval Frames (new today too!)
– Mini Glass Domes – Bronze – 25mm Tall
– White Plastic Cups & Saucers
See everything Teri used in Rose Ella's Reading Room in the Supply List. And see more photos and on Teri's second blog post.


NEW: Decorating with Skulls SALE
This is a custom collection that includes ALL of the supplies from BOTH of Teri's art projects, extras I've already mentioned (a few shown below) AND ALL of today's new or back-in-stock items!
Use coupon RESIN-SKULLS when checking out to get an additional 20% off on EVERYTHING in this collection!
The sale ends SATURDAY NIGHT, April 16th at midnight PST. Over 40 items!
See the entire sale collection here!

Posted by Leslie, April 14th, 2022