Happy accidents! Lots of new miniature bottles & wine glasses arrived this week. (Plus some well-loved Dresden trims & tiny beads that are useful as bottle stoppers are back.)
All those bottles reminded me of TWO bar-scene projects (in different scales): there's an adorable half-scale Tiki Beach Bar scene by Shannon Cooper plus an amazing Black Cat Cafe by Laura Carson)!
So I put ALL of the items in both supply lists AND the new bottles/glasses in one big collection that's ON SALE!


New Bottles & Wine Glasses!
Well, mainly! Also 3 popular faves are back in stock: Black Baroque Dresden Borders, White Dresden Border Sampler Set, and Jet Black 4mm Smooth Rondelles. See all of today's new items (and read on cuz all of those bottles are in today's sale — more info is below).


Tiki Beach Bar
Oh my. Oh my, oh my, oh my… Shannon is a crazy person and that is a very good thing! You might not guess at first glance that that incredible tiki bar is in half inch scale. That means the bay window she used as the base of her bar is 5 inches tall!
I'll let Shannon explain some details: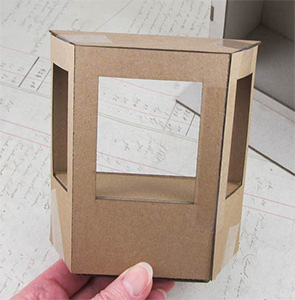 I converted the little Half Scale Bay Window that Alpha Stamps carries into a little bar by cutting off the front two supports and replacing them with bamboo poles. The bar top is a piece of heavyweight card that I cut to extend past the window. Holes were made to accommodate the bamboo poles, and the edges got covered with trimmed reeds. I guess they are reeds, I don't really know. While thrifting one day, I happened on a set of eight "bamboo" placemats and bought them thinking they may come in handy, and they proved to be just that. The chipboard palms have crepe paper bark and silk leaf fronds, and I topped the hut with a raffia roof.
Here's the reason I built the bar in the first place… cute cocktails! There is a great tutorial for making your own Cosmo, and I altered those instructions a teeny bit to make a Midori Sour with a seed bead cherry.
A few more supplies are shown below; see everything Shannon used to make her Tiny Tiki Bar in the Supply List. (And see more pics and details on Shannon's blog post!)


Black Cat Cafe
Do you remember that amazing Streets of Paris project Laura made? Her Black Cat Cafe scene included display cases outside the cafe (like the close-ups at right), a patio with outdoor seating, and more seating and a bar inside (see below for a photo with a close-up of some of the bottles and garnishes).
You can view "just" the TWELVE bottles Laura used in that bar — and the Cafe Bottle Labels Collage Sheet Laura designed for labelling the bottles.
Here's all of the supplies Laura used in that cafe (inside and out on the patio).
And come back after enjoying her tutorial videos (plural) for the sale!


NEW: New Mini Bottles & Tiki Bar SALE
This is a custom collection in honor of the new miniature bottles & wine glasses and BOTH related bar-themed art projects (plus some related bonus items)! (The bonus items are mainly more miniature plants & ferns… similar to those in Shannon's Tiki Bar scene.)
Use coupon TIKI-BAR when checking out to get an additional 20% off on EVERYTHING in this collection!
The sale ends SATURDAY NIGHT, January 29th at midnight PST.
See the entire sale collection here!

Posted by Leslie, January 27th, 2022