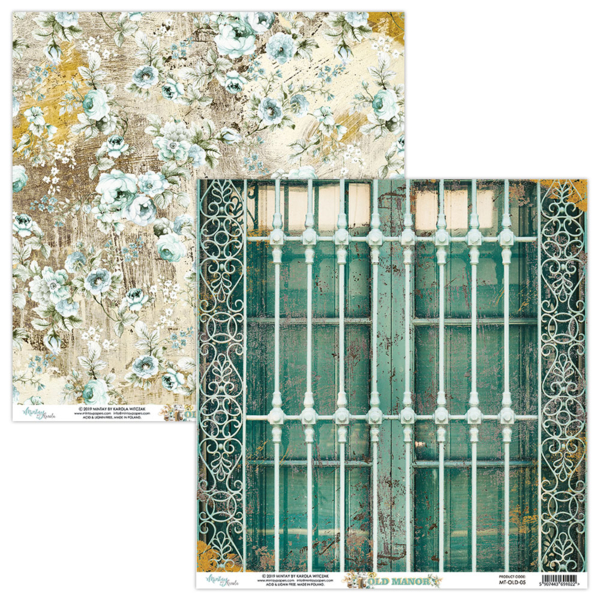 I've picked out THREE Halloween projects from the talanted ladies on the Design Team: each with an Edgar Allan Poe theme! AND I've put the supplies for ALL three of them in a new collection and created a discount code for 20% off those suppiles! More info on the sale is below (and remember that all of the supplies mentioned 'tween here and there are included in the sale)!
But first: there is a cool new set of shabby chic scrapbooks papers Old Manor! I love all the architectural details (and wrought iron)!
And see below for a few more new items: Halloween orphans that I ran out of time to announce in the flurry of last Sunday's Man in the Moon Mini Book Kit announcement! And speaking of that kit, the winner of the Man in the Moon Mini Book Kit Giveaway is Heather C! Check your email for more info.


House of Horrors Handmade Book by Laura Carson
Let's start with this wonderfully creepy project by Laura! I don't even know that it's "Poe" per se, but it certainly has that gothic vibe. Note that Laura created 4 collage sheets and a digital images set for her book!

Here's some text from Laura's blog post as intro:
Just in time for Halloween, I have a spooky book project for you titled "House of Horrors." I've packed in lots of creepiness from my new image sets and other embellishments. The book is constructed using chipboard haunted house and tombstone shapes which makes it easy to assemble and decorate.
The house is full of spooky pictures with vampires, werewolves, ghosts, witches, skeleton people, and headless women. Inside you'll find a trunk full of creepy doll heads. Behind a gate is a vampire with her coffin. I've used lots of candles on the pages, as I think they add to the creep factor.
More info is in Laura's blog post and/or see the supply list (and remember all those items are on sale — see the bottom of this post for more info).

Edgar Allan Poe Tunnel Shadow Box by Susan Killam
Oh, now there's a project that's definitely about Poe!
I sooo love this little Poe shadowbox! Susan used small stacks of chipboard to provide depth between the layers of the 4×4 Arch Tunnel Book (there's step-by-step photos on her blog post… and see the wider photo below for a work-in-progress that shows the depth).
On to some text from Susan's blog post:
My 4×4 Arch Tunnel Book is a little dark, with an Edgar Allan Poe theme. Hey, I'm a Baltimore girl and I can't pass up a Poe project opportunity!
The design team will show you different ways to use the tunnel. I made mine into a shadow box.
To begin, I chose the center element first. The photo below shows how I rigged it up so I could see the chipboard layers and plan the elements. (Note to self: put wee lights in the next tunnel book.)
There are so many great motifs throughout Poe's writing. Here I've included a raven, heart, cask, skull, and, of course, Lenore, all from Alpha Stamps collage sheets. There's also a pendulum, eyes, premature burial, and doubles.
Read more and see more photos in Susan's blog post; plus here's her full supply list. And don't forget to come back for that POE sale!

Finally: a colorful banner to decorate your house for Halloween! Note the close-up of one pennant on the wide photo below: It's from the Telltale Heart Collage Sheet, which is another Poe link to today's theme.
From Kristin's blog post:
The pennant shapes are 4″ wide at the top, and 6″ to the point, which allowed me to use 6″ by 6" scrapbook paper to cover them. Each pennant is then outlined with a thin Dresden trim.
"The whimsical clock on the pennant at left proclaims it's pumpkin time, and the skelly agrees. He's holding an October 31st sign and a freshly carved jack o'lantern. If I saw this guy running down the road, I'm sure I'd be spooked!"
Bonus: Kristin has provided a medallion tutorial on her blog post, with step-by-step instructions for creating the folded paper medallions!
Learn more in Kristin's post and see all the goodies she used in her Supply List (yep… on sale, too… see below for info on the discount code).


NEW Sale: Poe Artwork Supplies
This is a coupon sale that includes all the supplies from the THREE projects above! PLUS I added in ALL Collage Sheets with POE in the name!
Use coupon POE when checking out to get an additional 20% off on EVERYTHING in this collection! That's 20% off beyond current sale prices!
The sale ends SATURDAY NIGHT, August 7th at midnight PST.
I've already highlight quite a few of the sale items above with each project, but 3 more are shown below. See the entire sale collection here! And remember to use the coupon POE when checking out!

Posted by Leslie, August 5th, 2021