Oh, what a treat! A few new things, a few things back-in-stock… all led to me remembering the beautiful Music Makers Masquerade artwork by Design Team Member Rhonda Thomas (below) and also led to creating a new Moroccan Masquerade Collection that's on SALE! More on the sale below, but first this colorful artwork: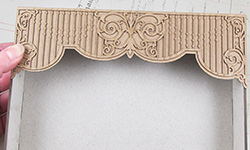 Rhonda used the Taj Mahal Triptych inside of a Simple 7 Inch x 8.5 Inch Shadowbox (standing tall). And cleverly bent the Wrought Iron Shadowbox Header to form a canopy at the top. I love painting it gold (and the Stained Glass Border sitting above it) and adding some crepe paper snips to add color. Note that lacy-edged raw brass mask is back, too.
Here's a link to all the supplies still in stock from Rhonda's project. And read on as there are more new items related to this theme AND included in the sale!


New Half Scale Theatre Cabinets
That shadowbox Rhonda used is the same size as the center shadowbox in the 7 Inch Tall Theatre Cabinet – 3 Inch Deep (shown at right; and that wrought iron header was made for that theatre cabinet, too). And now there are TWO new tiny versions of that cabinet/room box!
The new mini versions include the facade with columns that is a coordinating item on the larger version! The closed cabinet is approx. 3-1/2″ tall x 4-1/4″ wide.
There are 2 versions, the same except for the depth:

– the shallow version is 1-1/2″ deep when closed (the central shadowbox is 3/4″ deep, and the 2 smaller shadowboxes that form the "doors" are also 3/4″ deep)
– the deeper version is 2-1/2″ deep when closed (the central shadowbox is 1-3/4″ deep (more room for tiny furniture!); the 2 smaller shadowboxes that form the "doors" are the same in both versions)
See the Large Theatre Curtains, Columns & Box Seats Set Download for a set of 5 large curtains (and other pieces), sized for the 7 inch Tall Cabinets that will also fit this cabinet (including a colorful facade image that fits that curved chipboard facade).



Also new today: More themed items also in the sale!
Yep, all 4 of these items are included in the sale, too!
That Arabian Triptych at right is back in stock after a long while (another set that can be used with the overlay on the inside or the outside of the "doors" when folded closed).
And those 3 new chipboard shape sets below! Such fancy, doodly designs (and would look grand painted metallic gold like Rhonda's header). Or cut just a snip for an embellishment.
Today's new items are spread out all over the place in this missive, so here's a link to see them all at once.


NEW Sale: Moroccan Masquerade
This was a fun group to pick out. I started with ALL the collage sheets in the Arabian Nights section. Then I added lots of chipboard shapes plus charms and filigree.
All these items are on sale at 25% off!
The sale ends TUESDAY NIGHT, June 29th at midnight PST.
I've already highlighted quite a few of the sale items above, but 7 more are shown below or at right. See the entire sale collection here!

Posted by Leslie, June 27th, 2021