Per your feedback on resin frames in a previous project by Teri Calia, I tracked down 3 sets of white resin frames, 2 of which are in this beautiful The Memory Keeper's Room by Teri! I'll start by revisiting that artwork, then explain what else is new this week — and a BIG related resin miniatures sale!

I love this cozy room Teri has made, all starting with 7×7 Corner Room Box. Then moving on to the Petite Garden Shelves over on the right side (with the addition of Slender Cabriole Table Legs, and with all the shelves filled with treasures). The whole room grew around that shelf unit and the matching Park Bench. Here's some text from Teri's original post:
This little shabby chic roombox is a tribute to all of you out there who collect vintage ephemera and photographs. I started collecting when I was a child because I spent a lot of time with my Great Grandmother, who was a collector. I still get a thrill when I find a particularly interesting old postcard or well worn love letter. The memories attached to these treasures may not be my own, but they still speak to me and inspire me to imagine a long past world so different from my own.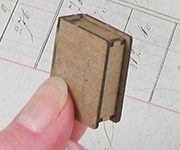 As you can see, the focus of this room is the tray filled with old letters, postcards and photographs. There is even a magnifying glass for closer inspection. Below the tray is an open faux book box, with more photos and ephemera, waiting patiently for perusal. A couple more faux book boxes on the shelf await their turn as well.
Oh, a couple suggestions for replacements since not all the supplies are still available:
– this tray and stool would work well as the makeshift table to hold all the vintage postcards
– either of these rustic stars could replace the ones on the wall above the bench
– how about a white sleeping cat?
– this flat basket could hold knitting or trinkets on the shelves
– the wallpaper is a bit tougher, but the front of the Eclectic Charm Frills Scrapbook Paper would be a similar shabby chic style.
More photos and info on the project is in Teri's blog post. Note: we updated the site since the original project so make sure to use this link for Teri's Supply List!


What is NEW today?
These new (or back-in-stock) items are perfect for miniature projects (including a couple sets of antique bronze hinges — and that third set of white frames I mentioned above). Plus most are in the new sale (more info below)!


Resin & Lucite Miniatures on SALE!
At least 25% off on EVERYTHING in this collection!
Note: this is a BIG group and includes items from food (tons!) to bottle blanks to animals to furniture!
Another idea for Teri's project: some recent gold resin frames (like the Fancy Gold Oval Mirror Frame shown at right) could get splashed with some white paint and fit right into that shabby room!
Psst: Anything on clearance in this collection is marked down to 50% off!
The sale ends at midnight PST, SATURDAY night, May 8th.
See the sale collection here! Over 220 items!

Here's examples of clearance items in the sale (50% off)!


Who won the Bird Watcher Kit Giveaway from the last newsletter? That would be Lana! Congrats! Check your email for info. (And a reminder of that colorful artwork is below.)

Posted by Leslie, May 6th, 2021