New Botanical Scripts 6×6 Paper Pad! A pretty mix of vintage ephemera, roses and butterflies. Two each of 12 single-sided designs. 24 heavy-weight sheets.



Shall We Dance by Design Team Member Rhonda Thomas
Wow! I love all the color and depth on this Tunnel Book by Rhonda!
Here's a bit of intro from Rhonda's blog post:
I love the Ephemera Queen Kit! I am, and always will be, a sucker for anything inspired by Marie Antoinette. Not only does the kit include some gorgeous papers but it also contains one of my favorite collage sheets, Mini French Ballet Costumes and lots more!
I placed each dancer onto a piece of the Ephemera Queen Papers and cut each one out with a sharp blade.
When I was ready to attach them to each layer of the 6×6 Arch Tunnel Book, I placed the tiniest dot of adhesive from an adhesive tape runner onto the back. This way, I was able to place each dancer and move them around until I liked the placement. Next, I placed a small amount of liquid glue onto the back of the dancer and set it permanently on the tunnel page.
Each layer is a page, so you are able to create a book, or you can create more of a 3d project like I did, a shadow box of sorts.
Great job, Rhonda!! Good tip on using a small bit of adhesive to rearrange the dancers when planning the composition. And I like th use of slices from the polymer clay mix (also in the kit) as a floral (?) archway above the dancers.
More photos are in Rhonda's blog post. And here's her supply list, too!



What else is new or back in stock today?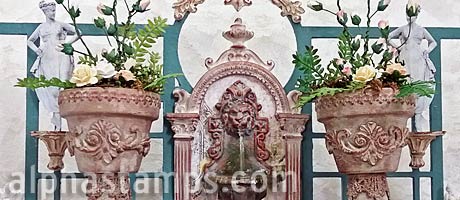 Lots of filigree! Plus those Triangular White Shelf Brackets shown at right (and a hint: new Dresden below in the sale section)!
Also shown at right is a preview of a Formal Garden from Laura Carson using those Shelf Brackets (more info on the brackets page).
First: There's a new Bronze Dresden Sampler Set (shown at left)! So pretty and that vintage color would look great with the new paper pad!
25% off on EVERYTHING in this collection! Over 50 items!
Psst: anything on clearance in this big collection is marked down to 50% off including new markdowns!
The sale ends FRIDAY NIGHT, March 26th at midnight PST.
See the entire sale collection here!

Posted by Leslie, March 25th, 2021