What is new today?
So cute! Lots of tiny containers (baskets, trays, jars) — and the return of wooden pediments! AND there's a related Giveaway (revisiting an adorable Alice Altoid's Tin Book using 2 Pediments by Design Team Member Nichola Battilana) — hence the theme of today's new sale!
So back to the new items: beside the items highlighted below, see all new items!

25% off on EVERYTHING Altoids Tin Themed! All kinds of items, from Chipboard Inserts to the TINS themselves!
Psst: ALL collage sheets in this collection are marked down to 50% off!
The sale ends FRIDAY night, August 14th at midnight PST. See the entire sale collection here!


Alice's Altoid Manor House Giveaway!
As I mentioned, we're revisiting Alice's Altoid Manor House by Design Team Member Nichola Battilana! I thought of it when I saw the wooden pediments were available again.
Beside the whole look and feel of the classic house, I love that Nichola turned one of the pediments upside down to use as the base.
Here's some background about the artwork from the original blog post: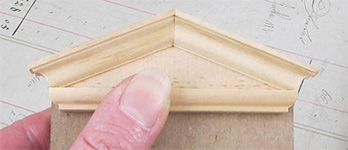 "I simply applied the Altoids Tin Book Covers to the front and back of the tin. I didn't even bother with the book spine (though I'm sure it'll come in handy for something). Then a new Window Pediment – Federal was added to the front top edge and the new Window Pediment – Yorktown to the bottom front edge (upside down). A snip of Thin Fleur Dresden Border is applied under the top pediment, then whole shebang is painted grey.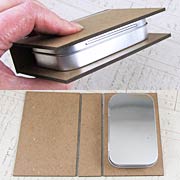 The windows are just little paper frames I cut out. I placed some Alice charaters from the Wonderland Rabbits and Hares Collage Sheet in the squares and added a layer of Diamond Glaze to make the 'windows' glossy. The door is framed with some snippets of wood and topped with little bit of filigree that broke off something-or-other that I kept for just such an occasion. Finally I finished the exterior with a Bronze Stopwatch Clock Charm.
I promise, this was a practically painless project! Sure the sides aren't covered… but the tin opens and I didn't have a meltdown attempting to apply hinges. (I often have hinge related meltdowns.)"
Beautiful work, Nichola! You can see more photos (and get info about the images inside the tin) in Nichola's blog post. Plus here's her supply list. (Remember, we moved to a new web site since then so see the items on that link above.)

AND EVERYTHING in that list is included in today's Giveaway drawing!
To enter the Alice's Altoid Manor House Giveaway drawing all you have to do is leave a comment BELOW on this blog post TODAY or TOMORROW (the deadline is 11:59 pm PST, FRIDAY Night, August 14, 2020).
Don't forget to leave your (hello!) correct email address, too, so I can contact the winner; your email address does not need to be made public. Note: I'm offering free shipping, too, but only within the USA. International shipping will still apply.
Please be patient! Spammers try to post crap here a lot so comments are moderated. So if you donít see your post in the comments section, be patient and check back in a few hours before re-posting it, please!
Who won the Forever Nanny Giveaway from Sunday's newsletter? That would be Sue O! Congrats! Check your email for info.

Posted by Leslie, August 13th, 2020