Design Team Member Lora Mahaffey has made a gaggle of fabulous Christmas ornaments (some are fridge magnets, too) and I love them! A perfect project for hiding indoors and pretending it's not a zillion degrees outside. Below is a bit from her blog post (and note that includes lots of tips and how-to photos, too)! AND… keep reading 'cause I just put ALL the Christmas items on sale (!) including TWO Stamperia 12×12 pads and the new Christmas Vintage Patisserie Rice Paper Lora used!
Y'all, it's hot here in the south. I mean, really hot right now. And sticky. Sticky on top of sticky.
So I have rejected the reality of the dog days of summer and have plopped my backside down in the air conditioning and have been making Christmas ornaments.
Yep. Pretty, cheerful, I-am-so-tired-of-hot-and-sticky-wanna-move-back-to-Alaska Christmas ornaments.
Actually, some of them are just wintery and can be hung/displayed for the whole season.
At right is a picture of all of them together. They look so nice all together!
The top three with the Christmas cakes are made with rice paper and Chunky ATCs and I decided I liked them as magnets.
(Aside: there's lots of new rice paper on the site today, that would make pretty ornaments or ATCs (or round coasters) for all seasons.)
The middle four are (again) Chunky ATCs and are nature oriented so you can leave these up all winter.
The bottom is a cute little Christmas garland made with Artist Trading Coins and papers from the Winter Botanic 12×12 Paper Pad and Christmas Vintage 12×12 Paper Pad (see the second wide photo below for a close-up).
I have to share that tinsel in August just makes me happy.

First up, the Rice Paper Christmas Magnets (see the first wide photo below): I love rice paper so much. If any of you has ever used napkins to collage with, peeling off the two extra layers of ply and gently brushing matte medium on the fragile surface of a single ply whilst trying to avoid air bubbles and wrinkles is sometimes quite trying.
Getting the bubbles out without tearing the surface too much is also a challenge. Rice paper is much stronger than a napkin, but still has the translucence.
I love these! After the medium dried, I added ribbon around the edges, lots of sparkly Stickles and glued a magnet on the back. They are easy and fun and glittery.
Read more and see more photos in Lora's blog post; plus here's her supply list. And don't forget to come back to see the new goodies and that Christmas sale!


New Goodies: from Rice Paper to Christmas Candies!
Hooray! This group includes the new smaller 8×8 version of the Christmas Vintage Paper Pad!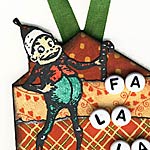 AND the Holiday Brownies Rubber Stamp Set is coming back! See both images at right (and click on either for more info — that set and the Alice's Adventures Rubber Stamp Set announced on Thursday have an extra discount!).
So many new things to mention today, they're not all covered in the previews below! Click here to see all 12 of them!
Keep reading (too) as there's a FLASH SALE on ALL Christmas (so lots of these new items are included in the flash sale, too)!


ALL Christmas ON SALE!
In honor of Lora's artwork! This is a 30% off sale on EVERYTHING tagged Christmas! Wow! This group has over 300 options!
You can view everything in that group or view a smaller subset:
– paper (single sheets, pads & die-cuts),
– beads and charms,
– collage sheets and digital images (psst: these digital images are 50% off!),
– rubber stamps,
– miniatures, and
– miscellaneous supplies (from glitter to ribbon)!
Psst: anything on clearance in this big group is marked down to 50% off! That's over 30 items!
The sale ends at midnight on MONDAY night, August 12th! Click: FLASH SALE to see everything!

Posted by Leslie, August 11th, 2019