The Bunny's House and Farmhouse Mini Album by Design Team Member Daniela Costa
As this is the first project by Daniela, let's start with a bit from her bio:
My name is Daniela Costa and I live in Northern California with my husband, son and two dogs. I have been playing with mixed-media for about 15 years. After becoming a stay at home mom, I found my love for crafting and I try to do something artsy every day.
Welcome aboard, Daniela! And we have two lovely, spring projects from Daniela today!
Here's a bit of the intro from Daniela's blog post to get us started:
I am so excited to share with you my creations with the Alpha Stamps March Kit! This kit is incredible: the colors, the variety, it's just beautiful! I've used elements from the Spring Farmhouse Collection, Chipboard House Box, and the most incredible chipboard windows and doors. I've also added the darling mini flowers, and a acrylic flower on top of the house. The box comes with two small holes on each side, so I weaved some wire, along with seam binding and now I have the Bunny House!
I particularly love the little door with the bunny in the window! (So much so there's a close-up at right… Daniela cut out the window panes in the door, so you can see the bunny easier, and then hinged the door on with paper tape… so cute!)
Note: Daniela made a second project (with the Mini House Album) shown directly below in the wide group of photos — and in another photo down in the Giveaway section.
There's so much more to see on Daniela's blog post and/or her supply list (for both projects). And don't forget to come back to see some new goodies (including some new scrapbook papers) and the FLASH SALE related to Daniela's album!


New Double Dot Lace Scrapbook Papers!
More New & Back in Stock Goodies! (and Gryphons!)
Wow! I finally got a chance to buy the Dazzles Thin Lines Stickers Set (a new mixed-color set of the popular — and super skinny — border stickers). Plus the teeny tiny brass Floral Spandrels are back… and 2 more cute micro mini critters!

Ooh! Remember the Gryphon Table?

It's a great little kit to make a 1:12 scale table for a wizard's office. See more info on A Wizard's Potion Making Table by Teri Calia (shown at right) in the original blog post and you can also see Teri's supply list (for all those tiny bottles & labels)!

Die-Cut Shapes ON SALE – 25% off!
And it includes the Mini House Album in Daniela's artwork (see right)! ALL Die-Cut Shapes are on SALE at 25% off! (Mostly chipboard but some acrylic shapes, too!)
This is a HUGE group: 85 items! Just a preview of 3 are shown below.
The sale ends at midnight TOMORROW NIGHT, March 22nd.
Click: FLASH SALE to see everything!
AND there are still quite a few die-cut chipboard items on the CLEARANCE SITE, too! (Like the Black Chipboard Scaredy Cat shown at far right — and all at 50% to 80% off!)
Psst! Speaking of the clearance site: If you order from both sites, you can contact Anna in customer service to have shipping from one of your merged orders refunded (email her after your orders have been placed).

Farmhouse Mini Album Giveaway!
So cute! I had to show off another photo of Daniela's album! I don't think many people have discovered the Spring Farmhouse Cardstock Ephemera with Foil Accents (yet)… they worked out great with the size of the album!
Here's the list of the items from Daniela's Supply List included in today's Giveaway:
– Spring Farmhouse Kit (that will get you the chipboard house, 2 collage sheets, and 1 each of all the designs in the 8×8 paper pad!)
– Mini House Album (the same size as the front of the house box from the kit, so the windows & doors will fit either)
– Mini House Doors & Windows (the full set (a mini version is included in the kit, too) and a few are shown below with the album)
– Spring Farmhouse Cardstock Ephemera with Foil Accents (mentioned above)
Bonus: I'm adding a sheet of the new Double Dot Lace French Vanilla Scrapbook Paper (which will work beautifully to mix & match with the kit papers).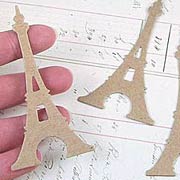 AND I'm also add these from the die-cut chipboard items on the CLEARANCE SITE:
– Eiffel Tower Die-Cut Chipboard
– Chipboard Birdhouse Shapes
To enter the Farmhouse Mini Album Giveaway drawing all you have to do is leave a comment BELOW on this blog post TODAY or TOMORROW (the deadline is 11:59 pm PST, Friday Night, March 22, 2019).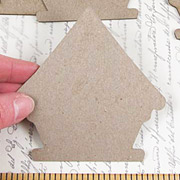 And what are you going to make?
Don't forget to leave your (hello!) correct email address, too, so I can contact the winner; your email address does not need to be made public. Note: I'm offering free shipping, too, but only within the USA. International shipping will still apply.
Please be patient! Spammers try to post crap here a lot so comments are moderated. So if you don't see your post in the comments section, be patient and check back in a few hours before re-posting it, please!
After midnight, I'll randomly pick the winner (via Random.org).
Hey, who won the Simple Things House Giveaway from Sunday's newsletter? That would be Janet Turner! Congrats! Check your email for info.
Posted by Leslie, March 21st, 2019