NEW Alcohol Pearls
A cool new color line: the iridescent "pearliness" in each color are colored, too (so the final effect is more richly colored, and the color doesn't shift white when viewed at an angle). Can be mixed with other Alcohol Inks. Use on glossy paper, dominoes, metal, shrink plastic, glass, and other slick surfaces. Made for non-porous surfaces (not uncoated paper nor photo paper).
See a video by Tim Holtz demonstrating these new PEARL alcohol inks!
New Alcohol Ink Storage Tin
The ideal storage solution for Alcohol Ink bottles. Organize and transport inks in this convenient tin. Features a clear window and hinged metal closure. Holds up to 30 bottles. Custom tray keeps Alcohol Inks in place for easy access..
AND… check out the Giveaway section below for a bright, cheery, beach-themed dominoes project by Design Team Member Laura Carson
that would be perfect for these new inks! (Did I mention it's in the Giveaway?)

New Tim Holtz Distress Archival Mini Ink Pad Sets
Finally! 🙂
These TWELVE ink pads are classic, Ranger waterproof dye inks (not pigment inks), but now in the Tim Holtz Distress color palette.
Permanent dye ink is great for working with rubber stamps (you can paint or use wet media over the stamped image and the ink won't run).
Nice, small 1-1/4″ x 1-3/4″ size. Easy to store or carry around (and can also be stored in the Mini Ink Pad Storage Tin).


ALL Tim Holtz Items ON SALE at 20% off!
Everything! From rubber stamps to metal embellishments… Over 50 options, including the new items above!
(Psst: There are still a few Tim Holtz items on the clearance site — and they are 50% off!, like the Fluted Metal Stars at right.)
The sale ends at midnight TOMORROW NIGHT, February 11th.
Click: FLASH SALE to see everything!

Mini Domino Book Giveaway!
I was thinking about projects that would be perfect for the new Alcohol Pearls, and this domino book by Design Team Member Laura Carson
came to mind. Note: these new Alcohol Pearls didn't exist when Laura made this, but a hard surface, like plastic dominoes, would be great for experimenting with Alcohol Inks — Pearl variety or original.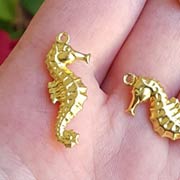 So in addtion to the new Tranquil color of Alcohol Pearls, I'm including all the supplies from Laura's project! Check that supply list link for all 7 items!
To enter the Mini Domino Book Giveaway drawing all you have to do is leave a comment BELOW on this blog post TODAY or TOMORROW (the deadline is 11:59 pm PST, Monday Night, February 11, 2019).
And what are you going to try using the Alcohol Pearls on?
Don't forget to leave your (hello!) correct email address, too, so I can contact the winner; your email address does not need to be made public. Note: I'm offering free shipping, too, but only within the USA. International shipping will still apply.
Please be patient! Spammers try to post crap here a lot so comments are moderated. So if you don't see your post in the comments section, be patient and check back in a few hours before re-posting it, please!
After midnight, I'll randomly pick the winner (via Random.org).
Hey, who won the Butterflies Tent Card Giveaway from Thursday's newsletter? That would be Kathy Udlinek! Congrats! Check your email for info.
Posted by Leslie, February 10th, 2019