Ha! Design Team Member Nichola Battilana has made a set of Confidential Top Secret Files using her new CLASSIFIED UFO Collage Sheet — and they are great!
See below for some background on how she went from the unassuming tent cards announced with the January Kit (one shown at right) to the conspiracy-theories-run-amok artwork!
Plus (for a true study in contrasts), I've picked out the Kitchen & Sewing section of Dollhouse Miniatures for a FLASH SALE! As TWO of today's new items are in that section, they're on 25% off sale, too!

The truth is out there – Confidential Top Secret Files by Nichola Battilana
From Nichola's blog post:
Ok. So. I tried to make something pretty. Alpha Stamps sent me some gorgeous papers to use with their tent card frames but it was not happening. I'm going to blame my recent podcast listenings for what happened.
I went about as far from pretty as one can get and found myself in a deep dark conspiracy hole.
Not a pink floral paper in sight! Instead I've taken a trip into the basement of the J Edgar Hoover building and gone rummaging through the X-Files. (I'd totally wink at Foxy Mulder circa 1993.)
Flip those folders open (You HAVE to peek when something is marked "top secret" and "confidential") and you'll find top secret office memos and case files. What could possibly be so ultra important?!?!
Photographic evidence of aliens and Bigfoot of course!
So there you are! Beside this intro and photos (above and below in the Giveaway section), here's the petite supply list. And be sure to visit Nichola's blog for more photos and info!


New Goodies!

1:12 Scale Miniatures ON SALE!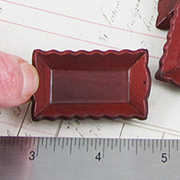 FLASH SALE! This is a 25% off sale on ALL items in the Miniatures for Kitchen & Sewing Section!
Lots of variety here: from tiny spools to cups/saucers to cake plates! 53 options… including the 4 highlights below.
The sale ends at midnight on Friday night, January 11th.
Want even more SALE Miniatures? There are a few left on the Clearance site (50% off)! Like the Mahogany Serving Tray shown at right. Here's the link to the Kitchen Section on the Clearance site!

Click: MINIATURES SALE to see everything!


Hooray for the Victorian Ephemera or Top Secret Giveaway!
So it hardly seems fair… everything in Nichola's supply list is just 3 items…

So in addition to her ENTIRE supply list (ha!) I'm adding one of the January Kits (that will give you 3 options for tent cards… and the choice to make pretty or conspiratorial artwork)!
To enter the Victorian Ephemera or Top Secret Giveaway drawing all you have to do is leave a comment BELOW on this blog post TODAY or TOMORROW (the deadline is 11:59 pm PST, Friday Night, January 11, 2019).
Don't forget to leave your (hello!) correct email address, too, so I can contact the winner; your email address does not need to be made public. Note: I'm offering free shipping, too, but only within the USA. International shipping will still apply.
Please be patient! Spammers try to post crap here a lot so comments are moderated. So if you don't see your post in the comments section, be patient and check back in a few hours before re-posting it, please!
After midnight, I'll randomly pick the winner (via Random.org).
Hey, who won the Crazy is Part of my Charm Giveaway from Sunday's newsletter? That would be Anne S! Congrats! Check your email for info.
Posted by Leslie, January 10th, 2019