Holiday Closure & After-Christmas Sale
It's day FOUR of this week of While the Cat's Away Sales & Giveaways!
Oh my… I just had to keep the Valentine's Collage Sheet Sale going for one more day after seeing this amazing Valentine House with Mini Envelopes project by Design Team Member Shannon Cooper!
Plus, since the project is so dang tiny, I added the Dollhouse Miniatures Collage Sheets to the 40% off sale, too!

Yes, as Shannon mentions in her blog post, this all started with a new Mini Envelope Punch (little did I know it would inspire such pink & red Valentine madness)!
This punch is so useful! The finished size of a folded envelope is only 1″ x 3/4″! You'll be making envelopes from every scrap of paper in sight!
Back to Shannon's artwork, here's a bit from her post:
I have had a really sweet house shaped room box from Alpha Stamps for a while and was considering what it should be used for. It has sat, fully assembled, upon the craft table for days (okay, it has been weeks!) waiting for inspiration…until now! Leslie, knowing I like things in miniature, sent me a paper punch of a teensy envelope to play around with. I looked at the punch, then the neglected room box, and I thought of a Valentine "mailbox" with four little cubbyholes for sweets and love notes.
I used pinking shears to cut out zig zag strips of paper for the front, and the paper chains are simply short lengths of pink and red paper that I rolled around a knitting needle before gluing together. Do you see the little red, white, and pink hearts? They were cut from a polymer cane and helped fill the space. I used them everywhere.
(And… a little birdie has told me there will be a mini tutorial for the envelopes ready tomorrow!)
Hm… ya know… that Loves Me – Sweet Love Scrapbook Paper announced yesterday would make adorable little mini candy boxes to include in a similar project.
See Shannon's blog post for more photos, and you can see her supply list for a pink & red overload! And check out the Giveaway below for another photo, more snips from Shannon's post, and the chance to win lots of her supplies!

So… moving on: today's new papers! We have a new Pen & Ink 12×12 Paper Set! And those subtle patterns would make great little envelopes if you were to use them with that new punch! See the photo at right for a slice of each of the THREE double-sided prints (and photos of each of the sheets is on the product page).

AND since the scrapbook paper sale is still going on, the new set is on sale at 40% off!
ALL Scrapbook Paper is on sale at 40% off ! (And that includes the NEW papers, too!)
– ALL Scrapbook Paper: Single Sheets . Over 100 items!
– ALL Scrapbook Paper Sets. Over 25 items!
AND the scrapbook paper on the Clearance Site is also on sale: now 80% off!
Back to today's news: I'm including the new paper set in today's Giveaway!
Reminder: Half Price Shipping on ALL orders (for orders shipping to USA) now through Tuesday night, January 1st! Only $2.95! Plus FREE shipping on orders over $50! More info

FLASH SALE: TODAY ONLY! Yes, I've added the Dollhouse Miniatures Collage Sheets to the existing Valentines Collage Sheets both on sale at 40% off! This is huge! Just the new Dollhouse Minis section is over 100 options! See below for highlights of the sale sections — and those first 4 are included in today's Giveaway! The collage sheet sale ends at midnight, December 29th, 2018 (really… cuz I have something else planned for tomorrow).
(Speaking of Giveaways, we have the winner to announce from yesterday's Puppy for Valentine's Day Giveaway. The winner is Pauline P! Check your email for info about your prize package!)


Hooray for the Tiny Envelopes for Valentine's Day Giveaway!
More from Shannon's blog post:
Look at that dapper meerkat! Lookit that face! I love that guy. Most of the cubbies have wee Valentine boxes plus gift bags and cards from the Tiny Little Valentines Collage Sheet. There are so many cat Valentines on that particular collage sheet so naturally I added them ALL.
Ha!
Beside ALL four of the collage sheets in that first highlight row above (which includes the Tiny Little Valentines Collage Sheet and Cupid Postcards #1 Collage Sheet both used in Shannon's artwork) and the new Pen & Ink 12×12 Paper Set…
I've also included these items from Shannon's Valentine House:

– New Mini Envelope Punch
– Red Spun Cotton Mushrooms
– Red Heart Polymer Clay Cane
– Mini Meerkat
– Mini Snowy Owl (I know you noticed him perched up there on the top shelf)
– Mini House Room Box – 4 Cubbies (yay! so you'll have the structure to house all these goodies)

Bonus: A couple more sale papers (from the Clearance Site) that would work well for tiny envelopes! (Both shown below — and both are now 80% off!)
– Cavalier Fleur Scrapbook Paper
– Holiday Jubilee Bow on Top Scrapbook Paper
Reminder: Here's how these While the Cat's Away DAILY Sales and Giveaways work: I've gathered items around a theme and put together a Giveaway Kit that will be awarded to one lucky person.
To enter the Tiny Envelopes for Valentine's Day Giveaway drawing all you have to do is leave a comment BELOW on this blog post TODAY (the deadline is 11:59 pm PST, December 29, 2018).

Don't forget to leave your (hello!) correct email address, too, so I can contact the winner; your email address does not need to be made public. Note: I'm offering free shipping, too, but only within the USA. International shipping will still apply.
Please be patient! Spammers try to post crap here a lot so comments are moderated. So if you don't see your post in the comments section, be patient and check back in a few hours before re-posting it, please!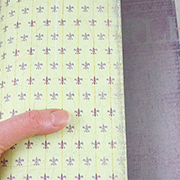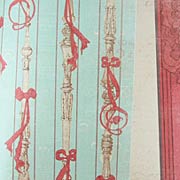 After midnight I'll randomly pick the previous day's winner. So make sure to check back tomorrow to see who won and to see what's on offer for FINAL DAY of the Sales & Giveaways!
More info on the Holiday Closure & Giveaway Rules.
And please remember: Our offices are now closed. The whole "While the Cat's Away" theme is 'cause I'm the only one here! For more info about shipping (which will start when the staff are all back on 1/2/19) and the sale in general, please see the While the Cat's Away…" Daily Giveaways: Year 11! overview page.
A final note: Even though our offices are closed, orders for DIGITAL Collage Sheets and Digital Images are still fulfilled in real time!
Posted by Leslie, December 29th, 2018