It's Day 2 of the Black Friday Weekend Sale! In case you missed yesterday's cute art (and new products) head over to the blog to see Snow Day!
Note: as this is a holiday weekend here in the US: FREE shipping for orders over $50 (for orders shipping to USA) now through FRIDAY night, November 30th! Wow! The holiday weekend sales may be over by Monday, but you'll still get a gift!
More treats:
– All orders now through Monday night, November 26th, are automatically entered into a drawing for a full-year subscription to the monthly kits!
– DIGITALS ON SALE: Digital versions of ALL collage sheets and ALL digital images are on sale at 50% off!
– New Loyalty Points Program! Get $ off future orders for every purchase you make! See the green "Loyalty Points" button on the bottom of every page on the site for more info!
– AND check below for a new FLASH SALE!

A Matchless Christmas by Kristin Batsel!
How cute! That overachiever, Design Team Member Kristin Batsel, has created TWO "Matchless" projects today that would be perfect for stocking stuffers:
A Gingerbread House made from a Peaked Roof Matchbox and a Christmas Matchbook from a Mini Matchbook Journal!

From Kristin's blog post:
What looks like it holds matches, but is even better? Christmas matchbooks and matchboxes that contain art! I have definitely caught the Christmas crafting bug, and here are two fairly quick projects I just completed.
Starting with the Gingerbread House:
This little house shape is so cute! I toyed with the idea of covering the outside with scrapbook paper, but the color of the cardboard was just the same shade as gingerbread, so I decided to make a gingerbread house using dimensional paint to mimic frosting, and some polymer clay canes that look like candy. I used the paint to hold the "candy" on, just as one would decorate with frosting.
When you slide out the matchbox drawer instead of matches, there's a little Christmas scene inside. I love that teeny vintage plastic Santa! The bottle brush tree is decorated with seed beads.
For more photos, please visit Kristin's blog post. And here is her Gingerbread House supply list and Christmas Matchbook supply list! (Plus more photos of the Christmas Matchbook are also below in the Giveaway section.)


More New Goodies!
More options for tiny trees! Grab 'em quick cuz the Tim Holtz items are limited quantities!



More artwork by Kristin — with goodies on Clearance Sale!

Ooh! Another cute project! Remember this little Putz House? Even if not (and it has been a few years): look how cute!
You can see more about it on this blog post (including current items in use). And the items below (limited quantities) that Kristin used are on the Clearance Site!

Glittery Snowflakes ON SALE!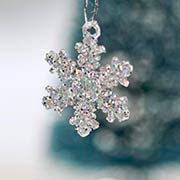 FLASH SALE! TODAY ONLY (ends at midnight PST, November 24th… that's 3 am tomorrow for you east coasters). Inspired by those snowflakes inside Kristin's gingerbread house! This is a 40% off sale!
I constrained this to a small group (6 items), including the 4 highlights below. Click: Glittery Snowflakes SALE to see everything!
Note: there are more glittery snowflakes over on the Clearance site, too (like the 1 Inch Iridescent Snowflake Ornaments shown at right)… and they have just been marked down to 80% off! See the Glitter, Tinsel, Rhinestones section on the CLEARANCE SITE!



Hooray for the Matchless Christmas Giveaway!
Wow! There's the whole lyric/story inside that tiny matchbook!
First off, I'm including EVERYTHING Kristin used in the matchbook in today's Giveaway! That includes:
– A Mini Matchbook Journal
– Small Retro Xmas Tags & Labels Collage Sheet (for the Santa on the front cover plus a few more images inside)
– Polymer Clay Red Swirl Peppermint Cane (sliced up on the cover, see pic at right)
Just click on this Christmas Matchbook supply list link for photos and links to all 6 items used in Kristin's matchbook, which are all included in this Giveaway!
Plus, I'm including these goodies from Kristin's Gingerbread House supply list:
– A Peaked Roof Matchbox
– Sweet Christmas Collage Sheet (you haven't seen them yet, but 2 gingerbread men from this sheet are on the back of the house)
– Mini Candy Canes (decorating the roof)
– 6mm Fancy Silver Snowflakes (also part of the FLASH SALE!)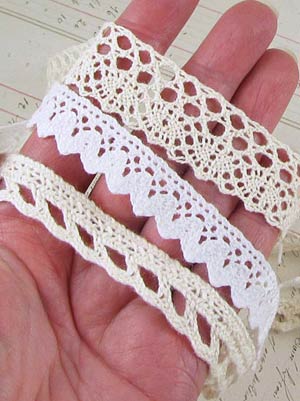 Bonus: not exactly the cotton crocheted lace the Kristin used on her Putz House, but I'm including a set of the Cotton Lace Sampler Set (that's also on Clearance Sale!)
To enter the Matchless Christmas Giveaway drawing all you have to do is leave a comment BELOW on this blog post TODAY ONLY (the deadline is 11:59 pm PST, Saturday Night, November 24, 2018).
Don't forget to leave your (hello!) correct email address, too, so I can contact the winner; your email address does not need to be made public. Note: I'm offering free shipping, too, but only within the USA. International shipping will still apply.
Please be patient! Spammers try to post crap here a lot so comments are moderated. So if you don't see your post in the comments section, be patient and check back in a few hours before re-posting it, please!
After midnight, I'll randomly pick the winner (via Random.org).
Hey, who won the Snow Day Book Box Giveaway from YESTERDAY'S newsletter? That would be Debora L! Congrats! Check your email for info.
Posted by Leslie, November 24th, 2018