Aw… what a sweet little Miniature Trick-or-Treat Basket!

That Shannon Cooper really has the gift of tiny! Not only did she assemble and paint the picnic basket (hint: the black alternating pattern was just colored with a Sharpie!), she also made most of those sweets! Lucky for us, most seem to be cookies cut as slices from polymer clay canes or clay cookies (and lolly pops) from this Mini Halloween Icons Mold.
From Shannon's blog post:
There are little pumpkin cookies and white chocolate ghosts made from the Mini Halloween Mold, which is the funnest thing ever, tucked inside the basket. I used polymer clay in the molds to create the pumpkin cookies, ghosts, and black bats that are on the caramel apple sticks. How cute is that mold??!
I was thinking about other things you could group together in a picnic basket and came up with a couple ideas from Shannon's past projects:
– A Harvest Theme (with pumpkins, mushrooms, fall leaves and squirrels)… just look at all the cuteness in the preview pic at left!

– A Christmas Cookie Theme (yum)! And look at this amazing Holiday Sweets Hutch Shannon made 2 years ago! (Note that Shannon's post for that project includes a quick tutorial on how she turned the 1:12 chipboard gingerbread house into a frosted version… yes, tweezers are involved.)
Note: I've picked out some treats from all 3 options to include in today's Giveaway! More info including links to the supply lists for all 3 projects are below.

New Products!
Wow… an avalanche of Alice in Wonderland (and tea party) charms arrived this week! PLUS (and very much better late than never): The final set of Halloween Embellishments by Tim Holtz arrived, too!

And if all the lovely art options above from Shannon aren't enough… see that new Gold & Green Patina Eiffel Tower Charm? (Above in the last row of the new items.) I was inspired to find it based on your comments on the post for the Flamingo Snow Globe (that Shannon made last summer) shown at left. I've also shown the new charm with 2 sizes of glass domes in case you'd like to make a miniature Paris shrine (in a similar snow-globey fashion). Click the photo at right to get more info on those domes.


Hooray for the Miniature Picnic Basket Giveaway!
Take a deep breath… I've picked out tons of little things you could put in your own miniature picnic basket:
First, these FOUR items from Shannon's Miniature Trick-or-Treat Basket:
– Mini Picnic Basket – 1:12 Scale
– Glass Pumpkin Charm
– Polymer Canes – Halloween Mix
– Mini Halloween Icons Mold
And here's the supply list for names/photos/links to everything in that project (including the ones listed above that are in the Giveaway).
Second, these FIVE items from Shannon's Autumn Harvest Buffet:
– Red Apples – 1:12 Scale
– Red Mushrooms
– Pumpkin Pods
– Tiny 3D Hedgehog
– Mini Ceramic Garden Gnome Beads
And here's the supply list for names/photos/links to everything in that project (including the ones listed above that are in the Giveaway).

Third, these THREE items from Shannon's Holiday Sweets Hutch:
– Polymer Clay Red Swirl Peppermint Cane
– Sweet Christmas Collage Sheet
– Gingerbread Collage Sheet

And here's the supply list for names/photos/links to everything in that project (including the ones listed above that are in the Giveaway).
AND as Shannon made most of those cookies & candies in her Holiday Sweets Hutch, I'm also including these pre-made ones!
– Alice Pink Eat Me Cookie
– Mini Heart Tart Cake
– White & Pink Iced Brioche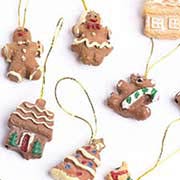 Bonus: I'm also including a set of the Mini Gingerbread Cookie Ornaments from the clearance site!
To enter the Miniature Picnic Basket Giveaway drawing all you have to do is leave a comment BELOW on this blog post TODAY or TOMORROW (the deadline is 11:59 pm PST, Friday Night, October 26, 2018).
AND tell me: do any of those holiday themes strike your fancy? Or do you have some other plan for the picnic basket?
Don't forget to leave your (hello!) correct email address, too, so I can contact the winner; your email address does not need to be made public. Note: I'm offering free shipping, too, but only within the USA. International shipping will still apply.
Please be patient! Spammers try to post crap here a lot so comments are moderated. So if you don't see your post in the comments section, be patient and check back in a few hours before re-posting it, please!
After midnight, I'll randomly pick the winner (via Random.org).
Hey, who won the Witches Apothecary Chest Giveaway from Sunday's newsletter? That would be Lorrie Koenig! Congrats! Check your email for info.
Posted by Leslie, October 25th, 2018