Wow! I looove both projects today by Design Team Member Shannon Cooper!
Starting out with this (funny and amazing) Spider House. I believe this all started with a bag of 100 spiders…
Shannon made a fab haunted house with the Tealight Haunted House Kit with Base, and her windows (stamped on vellum so they can be backlit) are inspired. Here's a bit from her blog post:
To accent the rectangular windows, I used pre-cut frames but cut a rectangle of cardboard to transform the center window into a door. I also cut a little cardboard frame for the upper right and matching rear windows [note: that's the tall window with 4 panes]. I stamped a spider, webs, and a skull onto some vellum, then glued them inside the house. Like Kristin, I added a tree by poking a hole in the base and glued in the tree.
Here's Shannon's Spider House Supply List (including the window frames and black printed papers in 2 sizes).
Note: Shannon's second project is shown (at some length) down in the Giveaway section (and both projects are on her blog post… though there's a second post today with her tutorial… more info on that is below.


Exclusive Rubber Stamps Back in Stock & ALL on SALE!

Halloween Collage Sheets ON SALE!
FLASH SALE! It's getting toward the witching hour! This is a 40% off sale on all CARDSTOCK Halloween Collage Sheets!
Tons of options, from cute to spooky! Over 160 products, including the 4 highlights below.
The sale ends at midnight TONIGHT, October 14th.


More Halloween ON SALE!
I just dropped the clearance sale prices on the Halloween Rubber Stamps & Halloween Theme sections to 70% off! See below for a few of my picks. (And there are tons of good choices in those 2 sections so go check 'em out!)


Hooray for the Halloween Accordion Book Giveaway!
Wow (again)! Shannon's Halloween Accordion Book has interactive features on every panel (and on both sides)!

Here's a bit more quoted from Shannon's blog post:
When the Spider House was finished, I realized I had all of this awesome Nightfall paper left over, so I made a book using an ATC Ticket Journal and the new House Shaped ATC Frame Set (because houses are cool). The book is accordion style, so it opens out to reveal six interactive pages. Warning! There are a scary amount of photos of this book on the blog post!
See that skull in a top hat in the center of the book? You can spin around a black circle of cardstock (you can see a little bit of that circle at the bottom of that panel) so that his eyes turn! See the wide photo below, but there's also a whole different blog post with a step-by-step tutorial for how to make him!

One more detail I'll blather about: see that orange polka-dotted pumpkin to the right of the skull in the trio of photos above? It's a pocket that holds a cat… and not just any cat… he can be flipped to become a witch! See photos below and there's also a separate blog post with more info on how he works.

So (finally) on to this Giveaway: I've chosen a few faves from Shannon's Halloween Accordion Book Supply List:
– Nightfall 6×6 Paper Pad
– House Shaped ATC Frame Set – New
– Victorian Bats Collage Sheet
– ATC Ticket Journal
– Round Frames for 18mm Cabs (also shown at right)
– Eyeballs Collage Sheet
– Halloween #3 Collage Sheet (for the cat that turns into a witch)!
(Note: The collage sheets in that list are on sale through TONIGHT.)
Just click on this Supply List link for photos and links to everything in Shannon's Halloween Accordion Book artwork (though "just" those listed above are included in the Giveaway).
And do go look at Shannon's blog post as she shows tons of photos of all the panels and their moveable parts!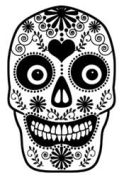 Bonus: I'm including one of the Sugar Skull Rubber Stamps (part of the 70% off sale!) as you could also knock out his eyes and make a similar rotating eyeballs interactive thingy with him!
To enter the Halloween Accordion Book Giveaway drawing all you have to do is leave a comment BELOW on this blog post TODAY or TOMORROW (the deadline is 11:59 pm PST, Monday Night, October 15, 2018).
Don't forget to leave your (hello!) correct email address, too, so I can contact the winner; your email address does not need to be made public. Note: I'm offering free shipping, too, but only within the USA. International shipping will still apply.
Please be patient! Spammers try to post crap here a lot so comments are moderated. So if you don't see your post in the comments section, be patient and check back in a few hours before re-posting it, please!
After midnight, I'll randomly pick the winner (via Random.org).
Hey, who won the Spooky & Sweet Halloween Shrine Giveaway from Thursday's newsletter? That would be Rhonda S! Oh, and since the winner had their choice of THREE from the Halloween Collage Sheet Sale, Rhonda picked Krampus, Ghosts and Krampus Postcards! (I'm interpreting a bit as I don't see any Halloween fairies!) Congrats, Rhonda! Check your email for info.

Posted by Leslie, October 14th, 2018