It's the end of an era: the final newsletter in Laura Carson's The Streets of Paris series!
Note: You can easily look back at the previous posts in this series; the last one was the upstairs A Paris Street Painter, shown at left.
And to end things with a bang, Laura's written TWO blog posts today: Apothicaire – An Apothecary Window and an Elevator (and each includes a video tutorial).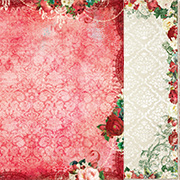 Speaking of endings, all the papers from Blue Fern Studio (including many Laura used for wallpaper and floorings) are being discontinued. Some are on the clearance site at 70% off (!) and some are on the new site (those are both links to the Blue Fern papers on the respective sites; and all are super-thick, sturdy cardstock with beautiful designs).
Psst: Christmas crafting is right around the corner and one of my favorite collections from Blue Fern is included in the sale: Vintage Christmas.
But… back to the loverly new artwork! First up…
Apothicaire – An Apothecary Window

Here's a bit of text from Laura's blog post as an introduction:
The final business in the Streets of Paris event is an apothecary. Just as with the Bookstore I've used a smaller bay window attached to the second floor on one of the sides to create a faux business. In the window are bottles, vintage drugstore ads and a mini scale with weights.
You'll notice that the window has a pretty blue awning and the faux glass in the window has the business name and other details printed on it, you'll find both of these free images in my blog post.
Laura created a new collage sheet and TWO digital image sets today! The Vintage Drugstore Ads Collage Sheet, shown at left, has some creepy/funny images like that little girl in the highlight bubble.
There's also a new digital images set with the same theme, and even more vintage ads.
Laura also includes a photo of the window at night… I love the Large Glass Apothecary Jar shown in the lower left of that photo at right (with a mysterious mix of alcohol ink & rubbing alcohol).
See everything Laura used in her Apothecary Window supply list. Come back after enjoying her new video tutorial (and lots more info & photos) for a Giveaway drawn from Laura's Elevator!


Hooray for the Paris Shop Elevator Giveaway!

This is so lovely! Laura created an elevator that can be moved between the 2 floors of her shops using a Tall Cage Style Lantern (which I'm also including in today's Giveaway)!
And remember that Laura has a whole separate blog post about the elevator:
By adding vintage stained glass images (from my new digital image set) printed on vellum, filigree and elevator images (free in the post), you can create a lovely miniature elevator.
Here's a couple more items from Laura's Elevator supply list that I'm adding to today's prize package:
– Rectangular Bronze Filigree – Large
– Chipboard Gothic Border Trim
To enter the Paris Shop Elevator Giveaway drawing all you have to do is leave a comment BELOW on this blog post TODAY or TOMORROW (the deadline is 11:59 pm PST, Friday Night, September 28, 2018).
Don't forget to leave your (hello!) correct email address, too, so I can contact the winner; your email address does not need to be made public. Note: I'm offering free shipping, too, but only within the USA. International shipping will still apply.
Please be patient! Spammers try to post crap here a lot so comments are moderated. So if you don't see your post in the comments section, be patient and check back in a few hours before re-posting it, please!
After midnight, I'll randomly pick the winner (via Random.org).
Hey, who won the Black Felt Kitty Cat Giveaway from Sunday's newsletter? That would be Laurie Staffaroni! Congrats! Check your email for info.

Posted by Leslie, September 27th, 2018