Before we get to the new Halloween items and cute Halloween artwork (and there's artwork by TWO Design Team Members today!):
it's time for coffins!
They're back! We've carried these sturdy, pre-decorated coffins for the last few years. (Granted, they only make a brief appearance as they are a popular item!)
These are just silly fun. Well constructed little coffins, though (and you can paint or paper over the colorful designs if you'd like a different look). Each has a lid and is covered inside and out with printed paper. Note: they come in a set of 3 (3 gradiated sizes: the largest is 8-1/2″ tall and the smallest is 7″ tall, and they can be nested). I'm assuming you crafty types are going to be decorating them/re-papering them, etc… the sets are all 3 of the same design and there are 3 new designs this year.
AND The first 30 orders over $30 will get one of the Decorated Coffins with Lids FREE!!
Don't fret if you're not quick on the draw (or if you want to get a specific size): you can order a set of 3, too! (And lots more photos of the different designs are on that page.)

On to the artwork!
Let's start with a trio of mini shrines by Design Team Member Rhonda Secrist Thomas: An Ode to the Black Cat. It was just a happy accident today that both Design Team Members made art about black cats. Rhonda used three of the new shrines — and tons of vintage glass glitter! She wrote a tribute to a stray black cat who adopted her on her blog post (plus lots more photos and tips about her shrines — like that cat head inside the shadowbox on the middle shrine is on a spring).

Moving on quickly as there are a lot of Halloween projects beckoning… Design Team Member Shannon Cooper has made TWO projects today and the first is this adorable Wee Witch Spoolie (plus a mini tutorial on making a fuzzy black felt bat)!
She has a crepe paper dress, striped stockings, and carries her pumpkin pail. The 31 was glued onto a button and attached to the spool. I used the felt scraps to make a friend for the witch.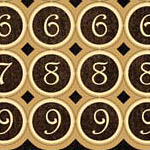 I should explain: I sent Shannon some of the new black felt and the "scraps" she speaks of are leftovers from her larger felt project shown below.
Psst: a couple things on the clearance site would be perfect for making your own spoolie:
– Vintage Alphabet and Number Stickers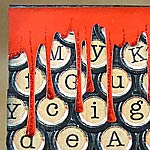 – Die Cut Alphabet Scrapbook Paper (hm… these faux typewriter letters look like the same ones used in Shannon's second project below)
Here's the rest of Shannon's supply list (including that cute witchy girl herself).
Shannon's blog post covers both of her projects (the second is down in the Giveaway zone and is… another black cat)!


More New Goodies!
"More"… which more? I was thinking of those Decorated Coffins with Lids already mentioned above.

NEW Clearance Section!
Wait… what? Yes, we've been using the new site long enough that there is now a clearance section on it, too! Some are items I can't purchase any longer, or I need to clear them out to make space… some of these are quite limited quantities. And go check out this new clearance section: not just the highlights below; there are over 80 items on sale!


Hooray for the Black Felt Kitty Cat Giveaway!
Oh my… this is darling! Shannon made a Felt Kitty with Matchbox Book that just keeps on getting cuter: starting with the pocket in the kitty's dress (holding a book full of cats)… and look below for what's inside that book!
So on to this Giveaway: beside EVERYTHING in Shannon's supply list (short and sweet as Shannon's embroidered facial features really make this simple list into a cat), I'm also include a couple more black cats:

– Acrylic Black Standing Cat Cut-Out
– Die-Cut Black Cats
Just click on this Supply List link for photos and links to everything in Shannon's artwork (like the little accordion fold booklet, and all the little creatures on the pages of the book).
And don't forget about Shannon's blog post as it has info about this felt cat, too!
To enter the Black Felt Kitty Cat Giveaway drawing all you have to do is leave a comment BELOW on this blog post TODAY or TOMORROW (the deadline is 11:59 pm PST, Monday Night, September 24, 2018).
Don't forget to leave your (hello!) correct email address, too, so I can contact the winner; your email address does not need to be made public. Note: I'm offering free shipping, too, but only within the USA. International shipping will still apply.
Please be patient! Spammers try to post crap here a lot so comments are moderated. So if you don't see your post in the comments section, be patient and check back in a few hours before re-posting it, please!
After midnight, I'll randomly pick the winner (via Random.org).
Hey, who won the Halloween Fun Matchbox Book Giveaway from Thursday's newsletter? That would be Mary Mac! Congrats! Check your email for info.

Posted by Leslie, September 23rd, 2018