That Nichola! (Of course I am talking about Design Team Member Nichola Battilana!)
I can always depend on her to create something unexpected from the monthly kits.
No exception this month, with her Hufflepuff Box

I am a Hufflepuff. For a long while I fought against it, but I have come to embrace my house. What's not to love about loyalty, a dedicated work ethic and strong moral code?!
Now whenever I see yellow I think "HUFFLEPUFF!" and set to celebrating my house with pride. The yellow window on the Stained Glass Windows Collage Sheet reminded me of something that might be in the Hufflepuff common room so that's where I drew my inspiration.
Things I love about Nichola's project:
– Cutting a window in the inner box from the Matchbox for Conservatory Book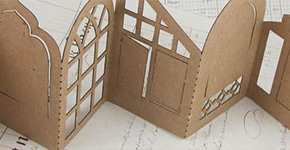 – Cutting up 2 of the Mini Conservatory Accordion Books to have 2 window frames to glue on both sides of that window
– Using the giant blue rose print from the Wandering Ivy 12×12 Paper Pad to cover the outside (I love those flowers but wondered how they could be used as they are a big scale with the Mini Conservatory Accordion Book). Psst: the text that says "ENJOY the little things" is from this paper pad, too (AND the butterflies that Nichola cut out and colored brighter with markers).
See more (including a tutorial by Nichola on how she made the box… another unexpected surprise as she used the outside of the matchbox as a wraparound cover instead of sliding on) in Nichola's blog post. And see all the supplies used. PLUS check the Giveaway below for another photo AND a chance to win EVERYTHING in Nichola's project!
And between here and there: info on the FREE Gift Kit (and Sale) inspired by Nichola's artwork! Plus the new items have a subtly Halloween theme (!)


NEW Paper Flower Nosegay FREE Gift Kit! AND Paper Flower Sale!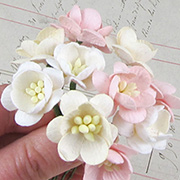 I was inspired by Nichola's artwork (and hey: happy summer)! So everything in the Paper Flowers & Leaves section is on sale! The sale ends MONDAY night, June 25th (2018). That includes a couple flowers (and viney leaves) in Nichola's artwork! (See details on which below in the Giveaway.)
Over 60 items (!), from mulberry paper roses to stamen to paper leaves! Go check out the sale!
And there's a new FREE Gift with ALL Orders!
ALL ORDERS now through Monday, June 25th (2018) will get one of the new Paper Flower Nosegay Gift Kits FREE! I just did a little "shopping" in the flower inventory and picked out lots of color/size options… see the photo at left for some examples of the tiny bouquets! And see the wider photo below for more options, including: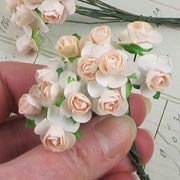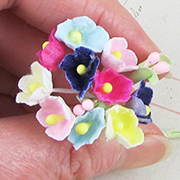 – Small Felt Flowers – Multicolor
– 1/2 Inch Pale Peach Paper Roses
– Fancy Lavender Berries Mix
– Fancy Red Holly Berries Mix
– Mulberry Paper Lilies – Burgundy Mix
– Mulberry Paper Lilies – Red & White Mix
– plus the Cherry Blossom Cream to Pink Mix in the inset above right. whew!
Hey, all are included in the paper flower sale!



Hooray for the Hufflepuff Box Giveaway!
(Ah… love that backlit view of the "stained glass" window!) Yep, I said it: EVERYTHING in Nichola's supply list is in today's Giveaway!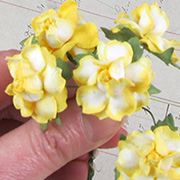 I'm going to highlight a couple (more) things Nichola used that I didn't mention above:
– 1 Inch Curly Paper Roses – Variegated Yellow (those and the white Tiny Paper Roses — and the Miniature Creeping Vine Garland — are so perfect inside! PLUS they're all part of the new SALE!)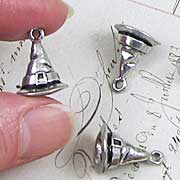 – A couple silver charms hanging from the yellow ribbon on the outside of the box: Pewter Wizard Hat Charm and Star Fairy Wand Charm
Yes, all those things in Nichola's supply list are in today's Giveaway!
Note: if an item is duplicated in the Mini Conservatory Kit (included in the Giveaway) and also listed separately in the supply list, I'm just including one of those items.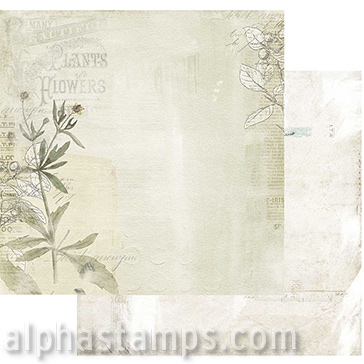 BONUS: I'm including one of the Paper Flower Nosegay Gift Kits.
BONUS #2: I'm also including a sheet of the NEW Seeds of Love Scrapbook Paper — that would be a pretty alternate paper to cover the outside of your own matchbox-wrapper.
To enter the Hufflepuff Box Giveaway drawing all you have to do is leave a comment BELOW on this blog post TODAY or TOMORROW (the deadline is 11:59 pm PST, Friday Night, June 22, 2018).
AND tell me: How would you decorate your Matchbox for Conservatory Book? Any other ideas on using the matchbox kit in an alternate way?
Don't forget to leave your (hello!) correct email address, too, so I can contact the winner; your email address does not need to be made public. Note: I'm offering free shipping, too, but only within the USA. International shipping will still apply.
Please be patient! Spammers try to post crap here a lot so comments are moderated. So if you don't see your post in the comments section, be patient and check back in a few hours before re-posting it, please!
After midnight, I'll randomly pick the winner (via Random.org).
Hey, who won the Abandoned Mansion Windows Giveaway from Sunday's newsletter? That would be Carla! Congrats! Check your email for info.
Posted by Leslie, June 21st, 2018