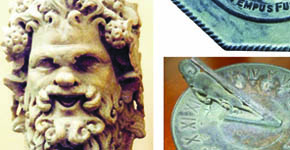 Design Team Member Rhonda Secrist Thomas has made a wonderfully overgrown Abandoned Mansion using the new Large Conservatory Accordion Book and Large Conservatory Parts Collage Sheet.
Like the Mini Conservatory Parts Collage Sheet, this new collage sheet has stained glass windows, doors & statues: this time sized for the Large Conservatory Accordion Book. Plus this sheet includes extra sundials and garden wall sculptures of Bacchus (perfect to peek out from behind a wall of ivy).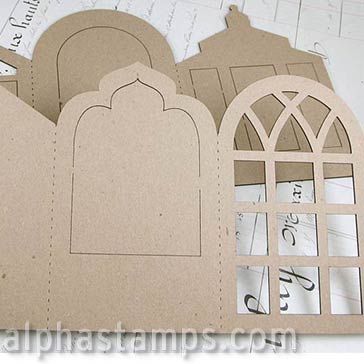 From Rhonda's blog post:
It amazes me how many beautiful, old, abandoned homes there are. My dream would be to find one, preferably haunted, with lots of land, and make it my own. Until then, I can imagine with this new larger version of the Conservatory Accordion Book from Alpha Stamps. I incorporated many of the images from the Stained Glass Windows Collage Sheet, (and a mini version of it is — printed on acetate transparency — is included in this month's Mini Conservatory Kit).
Imagine being an "urban explorer" and coming upon this Abandoned Mansion, with its gorgeous stained class and statues. The creeping ivy, the gorgeous flowers, and the unknown behind a door that once welcomed so many.
Beside the photos above, there's another photo down in the Giveaway section, where you can enter to win items from in Rhonda's supply list! And be sure to visit Rhonda blog for more photos and tips.


Ending TOMORROW: Kitchen Miniatures Sale and FREE Gift Kit!
Everything in the Miniatures for Kitchen & Sewing section is on sale at 25% off — the sale ends MONDAY night, June 18th. That includes the new bowl & plate sets and silverware announced Thursday and a ton of little props for making a cafe scene (see Laura Carson's cafe for tons of eye candy)!
90 items (!), from cups & bowls to scissors & sewing machines! Go check out the sale!
And there's a new FREE Gift with ALL Orders!
Laura has graciously created a mini version of her new Cafe Bottle Labels Half Sheet! Wine, beer, soda & liquor labels, all in 1:12 scale. ALL ORDERS now through Monday, June 18th will get one of the new Cafe Bottle Labels Gift Kits FREE! That's a mini collage sheet PLUS one of the bottles shown at left (that the labels fit), randomly chosen. (Those are Miniature Wine Bottles, Miniature Gin Bottle and Resin Olive Oil Bottle).


Hooray for the Abandoned Mansion Windows Giveaway!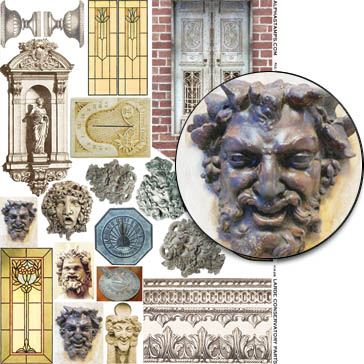 I love how Rhonda used the stained glass windows in the Large Conservatory Parts Collage Sheet in that section of her Abandoned Mansion at left. Other windows in her project were printed on acetate transparency so you can see through them, but this one (just printed on cardstock) still looks like a vintage stained glass window).
Ok… on to this Giveaway! I picked out the following items from Rhonda's Supply List:
– Large Conservatory Accordion Book – New
– Large Conservatory Parts Collage Sheet – New
– Stained Glass Windows Collage Sheet (printed on clear transparency)
– Miniature Creeping Vine Garland
– Mini Conservatory Parts Collage Sheet (See the curvy header above the double doors in that first photo of Rhonda's project above? That's from this collage sheet.)
Bonus: One of the Cafe Bottle Labels Gift Kits!
Bonus #2: A sheet of the New Tranquility Stillness Scrapbook Paper! (I think it would be a good shabby/distressed option for an abandoned mansion or room.)


To enter the Abandoned Mansion Windows Giveaway drawing all you have to do is leave a comment BELOW on this blog post TODAY or TOMORROW (the deadline is 11:59 pm PST, Monday Night, June 18, 2018).
AND tell me: What is your favorite detail (or panel) from Rhonda's project?
Don't forget to leave your (hello!) correct email address, too, so I can contact the winner; your email address does not need to be made public. Note: I'm offering free shipping, too, but only within the USA. International shipping will still apply.
Please be patient! Spammers try to post crap here a lot so comments are moderated. So if you don't see your post in the comments section, be patient and check back in a few hours before re-posting it, please!
After midnight, I'll randomly pick the winner (via Random.org).
Hey, who won the Black Cat Cafe Bar Giveaway from Thursday's newsletter? That would be Barb MacAskill! Congrats! Check your email for info.
Posted by Leslie, June 17th, 2018