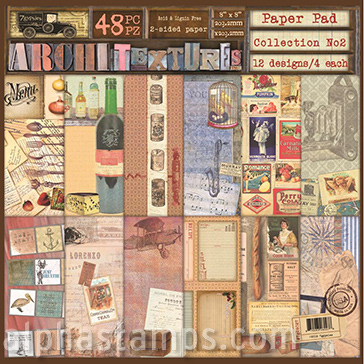 Aw… what a sweet little set of books! (Perfect for a gift to a cook in your life?) Teri Calia mixed lots of images from the new Architextures 2 8×8 Paper Pack with the Tiny Matchbox Theatre – 3 Inch and the new tiny Framed Matchbox Book for this set of books. And each one contains a surprise as each one has a framed scene inside!
That new paper set is colorful — and has so many images: from cooking and wine to travel (from maps to vintage cameras) and floral prints. There are twelve double-sided designs.
And that Framed Matchbox Book is so cute! The finished book is just 1-3/4″ tall x 1-3/8″ wide (when closed). It's a laser-cut set of 4 chipboard pieces. One piece is scored to be the inside "framed scene." That mini box (with a rounded-corner window already cut out) gets glued onto the back cover of the 3 pieces that form the outside of the book (front cover, spine and back cover). See the inside of Teri's "The Vital Question" book below (below the wide photo of the closed books) for an example of the finished product.

From Teri's blog post:
I collaged similar images onto both pieces so that they had a nice cohesiveness. Stacking them and tying a ribbon around them, when I was finished, made them seem like a cute little set.
I love this amazing vintage cookbook image, from the Architextures 2 Paper Set, as the cover for the matchbox book. It is the perfect size and so quirky. A bit of washi tape works well to bind the cover together. I used the same tape on the matchbox theatre so that they match and both look like books.
Beside the photos above, there's another photo down in the Giveaway section (with the scene that's inside the larger book) — where you can enter to win EVERYTHING in Teri's supply list!

Highlights from New Goodies! – ALL on Sale!

Ending TOMORROW (June 11th, 2018): Glass Bottles Sale and FREE Gift Kit!
Wow… this is a popular section: EVERYTHING in the Glass Bottles Section is on sale for 20% off! That includes the FOUR new glass bottles announced in Thursday's newsletter!
The sale ends MONDAY night, June 11th (2018).

FREE Gift Kit!
I was inspired by all the (creative) tiny bottles Shannon made from beads & tiny bits in her bookcase (in Thursday's newsletter), so I made a similar little gift kit!
ALL orders, now through MONDAY night, June 11th (2018) will receive a Tiny Potion Bottles Gift Kit FREE! I picked out:
– one of the 12x8mm Clear Glass Rectangular Beads (I'm holding one in the photo for scale, too)
– a Half Scale Cocktail Shaker (note: I've broken up the 2 parts in the photo… the bead that's normally the top of the shaker is sitting atop the next bead…)
– one of the 8x8mm Large Hole Plastic Drum Beads
– one of the 5x5mm Rounded Wooden Cube Beads
– a big mix of tiny beads that could be bottle stoppers or tiny bottles themselves! Lots of good stuff here, from glass rondelles to jade and Czech glass.


Hooray for the 2 Mini Framed Booklets Giveaway!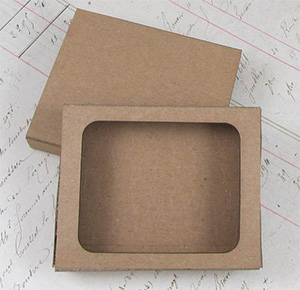 I like how both of these "books" have a curved-cornered-window as a frame inside. Though the smaller Framed Matchbox Book has a cover like a book (and the Tiny Matchbox Theatre has a cover that slides over it like a matchbox cover), they both have similar frames inside.
And check out the inside of the larger book, at left! I love how the flat paper images from the new paper set look right at home with that 3D mini resin french bread… helped out a bit by Teri adding foam tape to give the paper images a bit of depth and shadows.
Ok… on to this Giveaway! EVERYTHING in Teri's Supply List is included! Check that link to see photos of all EIGHT items!
Bonus: One of the Tiny Potion Bottles Gift Kits!
To enter the 2 Mini Framed Booklets Giveaway drawing all you have to do is leave a comment BELOW on this blog post TODAY or TOMORROW (the deadline is 11:59 pm PST, Monday Night, June 10, 2018).
AND tell me: What is your favorite detail from Teri's project? Or: What would you make with these 2 related chipboard "books"?
Don't forget to leave your (hello!) correct email address, too, so I can contact the winner; your email address does not need to be made public. Note: I'm offering free shipping, too, but only within the USA. International shipping will still apply.
Please be patient! Spammers try to post crap here a lot so comments are moderated. So if you don't see your post in the comments section, be patient and check back in a few hours before re-posting it, please!
After midnight, I'll randomly pick the winner (via Random.org).
Hey, who won the Never Too Early for Halloween Giveaway from Thursday's newsletter? That would be Laura Callies! Congrats! Check your email for info.
Posted by Leslie, June 10th, 2018