Design Team Member Nichola Battilana has created a Wee Sewist's Shrine, which is just about the cutest thing I have ever seen!

I'm going to quote from Nichola's blog post, and add a few comments of my own.
I've used an Altoids tin for the body of the shrine, and the lid is being used as the base. I've used an old chess piece as the stand, but an old spool would work well too.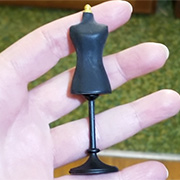 First off: it's amazing how simple the items are that Nichola whipped up into this frothy deliciousness: An Altoids Tin, some spools, a plastic dress form (love the transformation, turning it white), and some buttons. Plus a chipboard roof (with a snip of lace) and scallopy insert; and some paper. That's about it.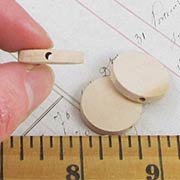 The tiny side table is made by gluing a Flat Round Wooden Bead atop a wooden finial. On top there are a Small Brass Scissors Charm, Tiny Thread Spools and a snip from the Mini Button Cards Half Sheet.
That is inspired! Using that flat wooden bead as a tiny table top!
Here's a link to see all of Nichola's supplies, and you can see more photos (and read more about Nichola's process) on her blog post. There's a chance to win EVERYTHING Nichola used down in the Giveaway (plus another photo, and me babbling on some more about the wonders)… and between here and there: info on the FREE Gift Kit inspired by Nichola's artwork!

But first… A New Sale!
Oooh! We've just restocked EVERYTHING in the reproduction Vintage Paper Scraps Section — and put them on sale! See the next section for just 8 of the new items… there are now 15 lovely designs to choose from!
The sale ends MONDAY night, June 4th. And scroll down just a bit to see a few snippets from the new prints that could be yours as part of the new FREE GIFT!


NEW FREE Gift Kit!
ALL orders, now through MONDAY night, June 4th (2018) will receive a Mini Vintage Sewing Gift Kit FREE! I picked out a few items inspired by Nichola's artwork (and I'm showing a little close-up of her table below at right): a mix of spools (mini and small) and that wooden bead Nichola used as a table top, plus some colorful flower stamen. PLUS a few snips from the new Vintage Paper Scraps! Some of the images are larger roses so you may get 1 large flower (or a large butterfly)… or 2 smallish cuts. But all the options are beautiful!


Hooray for the Wee Sewist's Shrine Giveaway!
Yep, I said it: EVERYTHING in Nichola's supply list is in today's Giveaway! (17 items!)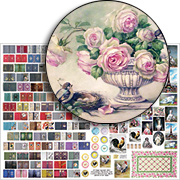 I'm going to highlight a couple (more) things Nichola used that I didn't mention above:
– 3mm Rhinestone Chain – Pink Mix (around the Marie Antoinette portrait at top, which is from the Half Scale Books & Things Collage Sheet)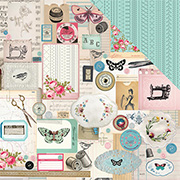 – The 2 butterflies are from the Miss Betty Vintage Thread & Sewing Scrapbook Paper
– The paper inside the tin, on the roof, and on the lid of the tin (which is the base of the whole project) are from the Moments in Time 6×6 Paper Pad
Yes, all those things in Nichola's supply list are in today's Giveaway!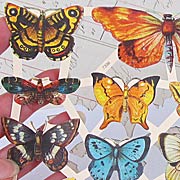 BONUS: I'm also including a sheet of the Mixed Size Butterflies Dresden Scraps.

To enter the Wee Sewist's Shrine Giveaway drawing all you have to do is leave a comment BELOW on this blog post TODAY or TOMORROW (the deadline is 11:59 pm PST, Friday Night, June 1, 2018).
AND tell me: What would you make with these supplies if you win? More than 1 project? Something different than what Nichola made?
Don't forget to leave your (hello!) correct email address, too, so I can contact the winner; your email address does not need to be made public. Note: I'm offering free shipping, too, but only within the USA. International shipping will still apply.
Please be patient! Spammers try to post crap here a lot so comments are moderated. So if you don't see your post in the comments section, be patient and check back in a few hours before re-posting it, please!
After midnight, I'll randomly pick the winner (via Random.org).
Hey, who won the Cabinet of Frippery Giveaway from Sunday's newsletter? That would be Debra Gibson! Congrats! Check your email for info.
Posted by Leslie, May 31st, 2018