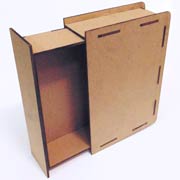 Ohh! We have two fun projects today. And a special treat: A new FREE gift item, too (more info on that below).
But let's start with this fancy project by Design Team Coordinator Miz Bella (Kimberly Ayers)! That's not just "fancy", that's Monsieur Fahnze Pahntz!
I love this project — and all the items Bella fit into her Hidden Drawer Book Box! The half scale items she used fit just right (wallpaper, tiny hat boxes and the Bookshelf with Drawers) and mixing in a few 1:12 scale things look fine too (like the Tiny Thread Spools).
Monsieur Fahnze Pahntz is so very, very happy all the time. This morning he has been dancing and has twirled himself around to his cabinet of frippery. Currently he is deciding if he'll be using silks or velvets today; before he digs through his messy drawer of patterns.

I had a lot of fun with this project using the Tiny Dress Shop Kit. Here are a few tips on how I made things.
– The bolts of fabrics are made by cutting small rectangles from chipboard and then wrapping silk and velvet ribbons around each rectangle. Voilà! You now have bolts of fabric.
– The books on the shelf are covered with images from the Mini Perfume Labels Collage Sheet, because books with plain covers just wouldn't fly with Mr. Fahnze Pahntz.
Beside the photos above, there's another photo down in the Giveaway section (a close-up of those mini bolts of fabric) — where you can enter to win lots of Bella's supply list! Here's a link to her blog post (with even more photos and more info about Monsieur Fahnze Pahntz).

Next up (and a new treat for you!): Design Team Member Shannon Cooper has used the new Mini Matchbook Journal to make an Embroidered Matchbook Journal!
I love all the needlecraft things Shannon makes (have you seen the hats she knits for her cat?!) This project is a tiny, pocket-sized beauty!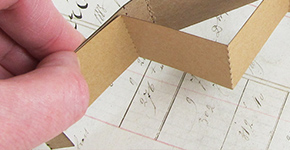 As Shannon notes in her blog post: "The base is (as you may have guessed) the same size as a regular matchbook and has a separate accordion folded insert with five pages for decorating. I considered gluing the pages so they would unfold sideways, or perhaps cutting out shapes with punches, and maybe painting or spraying or coloring the entire thing in bright rainbow colors.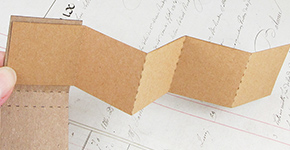 "There were just too many ideas! My last thought was to doodle a tree along one side of the pages and add a short poem. In the end though, the ladies on the Gothics Collage Sheet caught my eye, and the rest of the journal drew from that."
Well done! See more photos in Shannon's blog post, and see her short supply list.
The Mini Matchbook Journal is a set of scored chipboard to make a miniature book that closes like a book of matches. As you can see in the photos, it's your choice if the "pages" are attached so they open horizontally or vertically (or attached to the top of the cover or down by the base). And a gift for all of you: ALL orders, now through TOMORROW night, May 28th (2018) will receive ONE of the new Mini Matchbook Journals FREE! There's nothing special you need to do; a set will be added to all orders dated today or tomorrow (if you add one to your order today or tomorrow, I'll assume that's 'cause you want an additional one).


Ending TOMORROW: Glitter, Tinsel, Rhinestones (& Misc Shiny Things) Sale!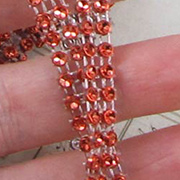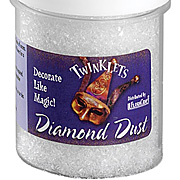 EVERYTHING in the Glitter, Tinsel, Rhinestones (& Misc Shiny Things) Section is 40% off!
Over 100 options! From glitter to tinsel to rhinestone chain, like the Twinklets Diamond Dust and Mesh Rhinestone Ribbon at left and right.
The sale ends MONDAY night, May 28th.

Hooray for the Cabinet of Frippery Giveaway!
Oh, where to start? I picked out quite a few items from Bella's Supply List to include in today's Giveaway:
– The Bookshelf with Drawers – 1:24 so you have a (tiny) place to put everything else!
– Half Scale Books & Things Collage Sheet (that portrait of Marie on the wall, and the tiny paintings on top of the cabinet)
– 1/2 Inch Pale Pink Paper Roses
– Tiny Thread Spools – Set of 5
– Mini French Ballet Costumes Collage Sheet (Monsieur Fahnze Pahntz!)
– Half Scale Striped Dollhouse Wallpaper with Garlands
– Half Scale Fashion Boxes Mini Sheet (I spy a tiny hat box on top of the cabinet)
– Mini Perfume Labels Collage Sheet (cleverly used as book covers)
Bonus: One of the new Mini Matchbook Journals!
To enter the Cabinet of Frippery Giveaway drawing all you have to do is leave a comment BELOW on this blog post TODAY or TOMORROW (the deadline is 11:59 pm PST, Monday Night, May 28, 2018).
AND tell me: What is your favorite detail from Bella's (or Shannon's) project?
Don't forget to leave your (hello!) correct email address, too, so I can contact the winner; your email address does not need to be made public. Note: I'm offering free shipping, too, but only within the USA. International shipping will still apply.
Please be patient! Spammers try to post crap here a lot so comments are moderated. So if you don't see your post in the comments section, be patient and check back in a few hours before re-posting it, please!
After midnight, I'll randomly pick the winner (via Random.org).
Hey, who won the Mini Bejeweled Dress Shop Giveaway from Thursday's newsletter? That would be Barb A! Congrats! Check your email for info.

Posted by Leslie, May 27th, 2018