Ah… That is truly a petite dress shop! Design Team Member Laura Carson is following this month's kit theme and has used Altoids Tins (plus 2 sets of the tin facades) to make a wee little dress shop.

I was intrigued by the zig-zag depth of the 3 "buildings." See the photo below of the back of the dress shop: that center building is a flat sandwich (2 of the facades glued back-to-back with decorative paper (and collage sheet images) in between). So it's attached to the back of the 2 tins on the sides, and is recessed on the front side.
I like how all the buildings are united in style by the use of Hampton brick paper on all 3 roofs (even though 2 are 3D roofs on top of a tin, and one is a flat facade).

Those posters (in the arched store windows) on the front & back of the middle building are from the Mini French Fashion Magazines Collage Sheet. Laura added to the one that shows on the front side, to give it some dimension: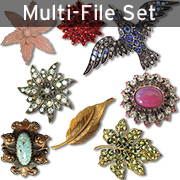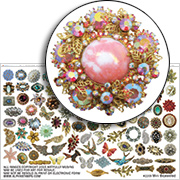 I added a feather and jewelry images from the new Mini Bejeweled Collage Sheet to the hat and used part of an image for the earring to which I added Glossy Accents. In the center of the flower on the hat, I added a red bead.
Now on to the dresses in the store windows themselves: Laura made TWO new collage sheets AND a new digital images set. The images in the Dress Forms #2 Collage Sheet fit the chipboard dress forms in the Dress Shop Shape Set and Mini Paper Dolls Shape Set (both of which Laura used — she used the filigree pieces in the Mini Paper Dolls Shape Set to decorate the roofs on the left and right buildings).
Back to the Bejeweled Digital Images Set: This set contains 72 vintage jewelry images which are also found, with a few exceptions, on the Bejeweled and Bejeweled #2 Collage Sheets (and the images on the new Mini Bejeweled Sheet).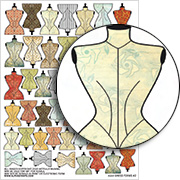 Here's a bit from Laura's blog post about the dresses themselves:
To create the dresses, I used jewelry images from the Mini Bejeweled Collage Sheet. Since for many of the pieces I need multiples and flipped pieces, I also use the Bejeweled Digital Images Set. The longer curved images and leaves work great for bodices and skirts. Birds are great for shoulder accents and bodices. Horizontal pieces work well for belts or connectors for long waisted dresses. Wings turned upside down work well for collars and the use of multiple wings upside down can create a tapered skirt.
To give the jewelry more dimension, you could also add rhinestones, glitter, Stickles, microbeads and metal findings.
Psst… that suggestion for adding glitz was my cue for today's new sale section… more info below!
Here's a link to see all of Laura's supplies, and you can see more photos and step-by-step instructions on Laura's blog post. There's a chance to win EVERYTHING Laura used down in the Giveaway (plus another photo… and between here and there: info on the FREE collage sheet and some nifty new items)!


NEW FREE Collage Sheet provided by Laura! & New Sale!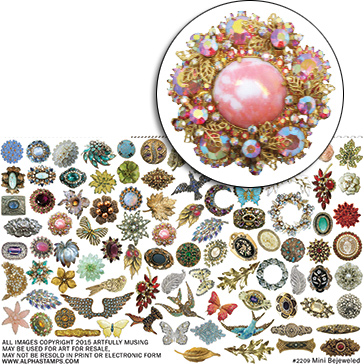 ALL orders, now through SATURDAY night, May 26th (2018) will receive the Mini Bejeweled Collage Sheet shown at left FREE! The images are great for smaller projects. Use them as an accent or combine multiple pieces of jewelry to create clothing (like in Laura's artwork… and see the Giveaway below for close-ups of those dresses created with these jewels).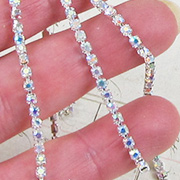 More info

New Sale!
And since Laura suggests adding some bling to her jewel images, EVERYTHING in the Glitter, Tinsel, Rhinestones (& Misc Shiny Things) Section is 40% off!
Over 100 options, like the 2.5mm Rhinestone Chain at right.
The sale ends MONDAY night, May 28th.

Hooray for the Mini Bejeweled Dress Shop Giveaway!
First off: EVERYTHING in Laura's supply list is in today's Giveaway! (13 items!)
I'm going to highlight a couple (more) things Laura used (plus see below for a row of 4 more highlights with photos):
– 1:12 Brick Wall Sheet (embossed bricks on the back of all 3 buildings)
– Dress Shop Shape Set (behind all 4 of those dresses is a chipboard shape from this set, painted black)
Yes, all those things in Laura's supply list are in today's Giveaway!
BONUS: I'm also including 2 items just put on clearance sale:
– 8mm Cube Beads – Astrology Symbols
– Mini Tabby Cat Set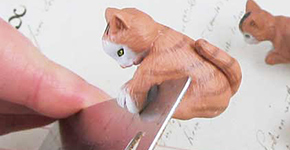 To enter the Mini Bejeweled Dress Shop Giveaway drawing all you have to do is leave a comment BELOW on this blog post TODAY or TOMORROW (the deadline is 11:59 pm PST, Friday Night, May 24, 2018).
AND tell me: Those Mini Jewels… How will you use them? Make tiny dresses? In a past project Laura used images of jewelry to decorate a beautiful faux Faberge egg.
Don't forget to leave your (hello! correct) email address, too, so I can contact the winner; your email address does not need to be made public. Note: I'm offering free shipping, too, but only within the USA. International shipping will still apply.
Please be patient! Spammers try to post crap here a lot so comments are moderated. So if you don't see your post in the comments section, be patient and check back in a few hours before re-posting it, please!
After midnight, I'll randomly pick the winner (via Random.org).
Hey, who won the Petite Shadowboxes Giveaway from Sunday's newsletter? That would be Winnie! Congrats! Check your email for info.

Posted by Leslie, May 24th, 2018