Ahhh! This trio of Framed Fashion Boxes by Teri Calia is so sweet! And a nice small size (see the lower right corner of the photo grid below to see Teri's hand holding one of these petite boxes). Small enough to make up quickly — and to hang on the wall (which is how Teri is displaying hers).
This little project started with the new Julie Nutting Pink Paper Dolls 6×6 Pad (tiny designs, perfect for small projects). Teri loves pink (as if you haven't already noticed)! And the combo of pink with black (black painted frames, black dress form, black filigree) looks fab!

Teri revamped a hat box collage sheet that is used throughout. The original version was a bit large for 1:12 scale, but this new collage sheet is in 1:12 scale. In addition, Teri removed the cake/pastry boxes from the sheet and added a glove/scarf sized box instead. Those fashion boxes will come in handy for all kinds of projects.
(Not used in this project, but there's also a new, related Half Scale Fashion Boxes Mini Sheet, in case you need even smaller boxes.)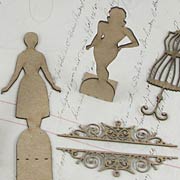 Yes, those black frames are the Tim Holtz Wood Vignette Shadowbox Frames… mixed with the 3 smallest sizes of mini shadowboxes, they make a good size match.
Beside the photos above, there's another photo down in the Giveaway section — where you can enter to win lots of Teri's supply list! Here's a link to her blog post (with even more photos).
And between here and the Giveaway, don't forget to check out the new items AND the sale and free gift both ending tomorrow night!


Ending TOMORROW: Baking Sale and Mini Cake Set FREE Gift
In honor of the Tiny Cake Plate Filigree (new in last Thursday's newsletter — also the filigree used as a cake plate in the Alice in an Altoids Tin Kit), I went hunting for little cakes to fit on that filigree/cake plate. See the photo at left for the ones I found (plus check the filigree page for links to all 4 of them). ALL ORDERS now through Monday, May 21st (2018) will get one of the new Mini Cake Sets FREE! That's one filigree cake plate plus one of the cakes, randomly chosen.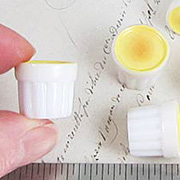 Plus, if you spend $40 or more, I'll add a second cake! (A different style so you'll have 2 to display.)

Baking Miniatures Sale!
Everything in the Baking Miniatures section is on sale at 25% off — the sale ends MONDAY night, May 21st (2018). That includes the new Mini Egg Custard announced Thursday (see right) and a ton of little sweets in Laura's chocolate shop!
Over 40 items, from eggs & bowls to finished cakes & cookies! Go check out the sale!


Hooray for the Petite Shadowboxes Giveaway!
Oh, where to start? I picked out quite a few items from Teri's Supply List to include in today's Giveaway:
– All 3 of those mini shadowboxes Teri used!
– Tiny Little Fashion Boxes Collage Sheet
– 3 Inch Miniature Dress Form
– A Ladys Boudoir Ephemera Collage Sheet (the perfume bottle labels and tiny ephemera below)
– Brass Fine Link Chain New (see it peeking out of the Miniature Square Metal Box with Lid on the left side of the close-up below? Yes, that metal box is included, too!)
– Julie Nutting Pink Paper Dolls 6×6 Pad New
– Mini Paper Dolls Shape Set (the black flligree at the top of the box with bright pink paper, shown above — plus you'll get some dress form silhouettes that fit in with Teri's fashion theme)
To enter the Petite Shadowboxes Giveaway drawing all you have to do is leave a comment BELOW on this blog post TODAY or TOMORROW (the deadline is 11:59 pm PST, Monday Night, May 21, 2018).

AND tell me: What will you make in your petite shadowboxes? Pink fashion boxes like Teri's? With the grey patterns in the paper pad, you could go for a more sedate theme in almost any style…
Don't forget to leave your (hello!) correct email address, too, so I can contact the winner; your email address does not need to be made public. Note: I'm offering free shipping, too, but only within the USA. International shipping will still apply.
Please be patient! Spammers try to post crap here a lot so comments are moderated. So if you don't see your post in the comments section, be patient and check back in a few hours before re-posting it, please!
After midnight, I'll randomly pick the winner (via Random.org).
Hey, who won the Chocolate Shop Window Giveaway from Thursday's newsletter? That would be Joanna Campbell Slan! Congrats! Check your email for info.
Posted by Leslie, May 20th, 2018