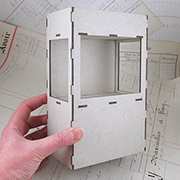 I do love Punch & Judy! One of the longest and unhappiest marriages has brought joy to others for 350 years now: Punch and Judy, the battling puppet duo, for whom the term "slapstick" was coined from their constant marital wars.
And lucky for me (and you): Design Team Member Nichola Battilana is also fond of that battling duo:
If you aren't familiar with Punch and Judy it's a sort of violent puppet show which can be dated back to just before the 1700's, reaching a height of popularity during the Victorian era. More recently, they have a bit of a shout out in Gone Girl.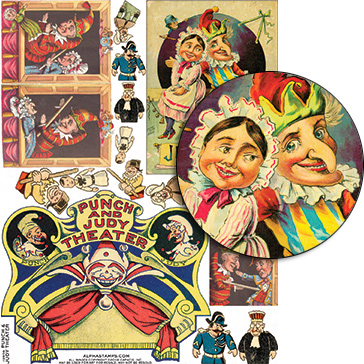 To make this piece I began with the Punch & Judy Theatre kit. Then covered it in Red & Ivory Narrow Stripes Scrapbook Paper. I've actually added two headers here. One attached to the rear from the Punch & Judy Theater Collage Sheet. A second one on the front of the the theatre from the The Grand Guignol Collage Sheet. I think it gives a good feeling of frantic fun, perfectly suited to Punch and Judy.
Beside the fab photos below, there's another photo down in the Giveaway section (showing the characters sitting outside the stage) — where you can enter to win EVERYTHING Nichola used!
Here's a link to everything in Nichola's supply list AND a link to her blog post (with even more photos).
And between here and the Giveaway, don't forget to check out the new items AND the sale and free gift both ending tomorrow night!


Hooray for the Punch and Judy Theater Giveaway!
Yes, I said it! EVERYTHING in Nichola's Supply List is included in today's Giveaway!
I'm only highlighting a couple of the NINE colorful items in the supply list/Giveaway:
– Marionnette Theatre Collage Sheet (including the facade with the big curtain drape across the bottom)
– new The Grand Guignol Collage Sheet (which includes the standing characters Nichola used)
Just click on this Supply List link for photos and links to everything in Nichola's artwork, which are also all included in the Giveaway!
To enter the Punch and Judy Theater Giveaway drawing all you have to do is leave a comment BELOW on this blog post TODAY or TOMORROW (the deadline is 11:59 pm PST, Monday Night, May 14, 2018).
AND tell me: What style will you use to decorate your Punch & Judy Theatre? In addition to Nichola's project, we've had some great art ideas using that chipboard kit: Rhonda and Teri both shared Valentine's Day-themed theatres in this newsletter from February.
Don't forget to leave your (hello!) correct email address, too, so I can contact the winner; your email address does not need to be made public. Note: I'm offering free shipping, too, but only within the USA. International shipping will still apply.
Please be patient! Spammers try to post crap here a lot so comments are moderated. So if you don't see your post in the comments section, be patient and check back in a few hours before re-posting it, please!
After midnight, I'll randomly pick the winner (via Random.org).
Hey, who won the Tiny Shabby Chic Shed Giveaway from Thursday's newsletter? That would be Nancy O! Congrats! Check your email for info.
Posted by Leslie, May 13th, 2018