Soooo cute! Design Team Member Shannon Cooper has made an impossibly tiny display inside a Blank Altoids Tin. So perfectly proportioned (see the 2nd photo of it down in the Giveaway section, in Shannon's hand, for a better idea of the size).
I'll just quote from Shannon's blog post… and a teaser: that rabbit on the top shelf has inspired the new FREE gift!
Blank Altoids Tins are by far one of the best things on the planet. They can be transformed into countless things: decorated containers for secret things, pocket sewing kits for embroidery on-the-go, a base for altered art, or even a place to display miniatures. It was the Altered Tin Facades, coupled with a blank tin, that inspired me to create a wee scene with a shabby chic aesthetic. The Moments in Time 6×6 Paper Pad might have had something to do with it too. It is very pretty!
I began with the furniture, which is made from a few buttons and bent wire that has been painted white. The table was covered with a bit of doily and some Dresden trim. I chose a fabric covered button for the cushion of the chair and an oval button for the back. The back seemed plain so I painted on a few flowers. I emulated that on the tiny, tiny shutters also. I really love those shutters and am happy that they found a home on a very appropriate piece. The picture frame is simply cut from heavy cardstock, glued at an angle to give it a little dimension, and then painted. The shelf is also cardstock that is covered in paper and glued in place. The cute lamps come from the Dress Shop Shape Set. I chopped them in half, covered them in paper, added a doily trim, then glued them in place.
Here's a link to see all of Shannon's supplies, and you can see more photos and read more on Shannon's blog post. There's a chance to win EVERYTHING Shannon used down in the Giveaway.

NEW Bunnies & Owls FREE Gift Kit with every order!
Yes, that cute bunny on the top shelf in Shannon's "shabby shed" inspired this one… ALL orders, now through Monday night, May 14th (2018) will receive TWO of the mixed rabbits and TWO owls (one of the new Black Glass Owl Beads and one of the 27mm Bronze Owl Pendants) FREE!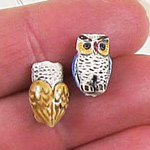 Note: I'm showing 3 possible kits in the photo… the bunnies come in 2 shapes and 3 colors.
New Sale!
Speaking of those cute owls, ALL of the Bird Charms (which also includes Bird Beads) are on sale!
26 options, like the 2 owls in the gift kit, or the Small Ceramic Horned Owl Beads at right.
The sale ends MONDAY night, May 14th 2018.

Hooray for the Tiny Shabby Chic Shed Giveaway!
First off: EVERYTHING in Shannon's supply list is in today's Giveaway! (16 items!)
I'm going to highlight a few (more) things Shannon used (most creatively!):
– Antique Silver Tall Flower Bead Caps (painted white as used as planters for the roses… see the photo above)
– Dress Shop Shape Set (one of the lamps cut in half, trimmed with doily lace)
– Set of Louvered Shutters (painted green and with roses added to match the chair)
– Mini Oval Box or Tassel Cap (as a box on the shelf)
– House of Roses on the Porch Scrapbook Paper (strips used as wood planks across the house facade… and there's a tutorial for this technique on Shannon's blog post!)
To enter the Tiny Shabby Chic Shed Giveaway drawing all you have to do is leave a comment BELOW on this blog post TODAY or TOMORROW (the deadline is 11:59 pm PST, Friday Night, May 11, 2018).
AND tell me: Your Tin and Facades… How will you use them? A shabby chic scene like Shannon's sample? (try saying that 5 times fast…) Something else?
Don't forget to leave your (hello! correct) email address, too, so I can contact the winner; your email address does not need to be made public. Note: I'm offering free shipping, too, but only within the USA. International shipping will still apply.
Please be patient! Spammers try to post crap here a lot so comments are moderated. So if you don't see your post in the comments section, be patient and check back in a few hours before re-posting it, please!
After midnight, I'll randomly pick the winner (via Random.org).
Hey, who won the Trinket Box and Foldy Thing Giveaway from Sunday's newsletter? That would be Denise Humenik! Congrats! Check your email for info.

Posted by Leslie, May 10th, 2018