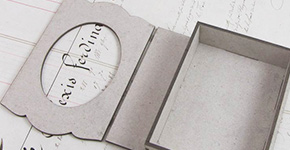 Hooray for Nichola! In the midst of cleaning and prepping for the open house she had yesterday, she managed to get a blog post done AND make this adorable project!
I'm exhausted so the best I could do for a name today is "Romantic foldy thing-a-ma-bob and box". It might not be terribly eloquent but it's apt. Managing apt is pretty damn good after the past few ultra hectic days!
And the little thing within IS foldy.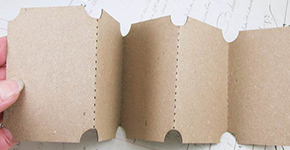 I stand by my name choice.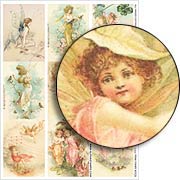 I've kept things really simple here. The whole box is covered in Nature Garden – Meeting a Fairy Scrapbook Paper. I've given the top of the box quite a bit of dimension, using foam squares to prop up the nude little dude, and those flowers just sort of pop right out. (Those Small White Mulberry Blossoms are really cute!)
Beside the lovely photos below (and I haven't even mentioned the accordion-fold insert at the bottom of the photos), there's another photo of the down in the Giveaway section — where you can enter to win EVERYTHING Nichola used!
Here's a link to everything in Nichola's supply list AND a link to her blog post (with even more photos).
And between here and the Giveaway, don't forget to check out the new items AND the sale and free gift both ending tomorrow night!


Ending TOMORROW: Alice in Wonderland SALE and FREE Gift!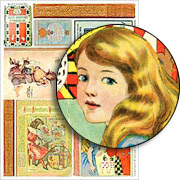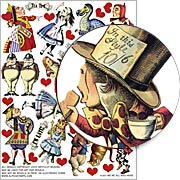 In honor of those cute, new Alice in Wonderland Faux Postage Stamp Stickers from Thursday's newsletter, ALL of the Alice in Wonderland Collage Sheets are ON SALE!
Almost 50 options, like the We're All Mad Here Collage Sheet and Alice Covers Collage Sheet shown at left and right.
The sale ends MONDAY night, May 7th 2018.
Go see all the Alice Collage Sheet options!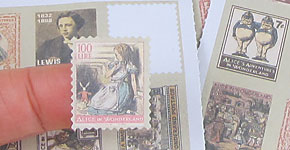 Ya know… those new faux postage stamps would work well behind little windows in a Matchbox Skyline Book (like the stamps Teri used in her skyline booklet)… ALL orders, now through Monday night, May 7th (2018) will receive ONE PAGE from the new Alice in Wonderland Faux Postage Stamp Stickers FREE! (Normally sold in sets of 4 pages… one page is 20 stickers!)

Hooray for the Trinket Box and Foldy Thing Giveaway!
I couldn't help myself… I'm forever going to refer to the ATC Ticket Journal as the foldy thing!
Yes, I said it! EVERYTHING in Nichola's Supply List is included in today's Giveaway!
I'm only highlighting a couple of the FOURTEEN spiffy items in the supply list/Giveaway:
– Bouquets Collage Sheet (including those beautiful tulips on the front of the ticket journal at left)
– Seed Catalog ATCs Collage Sheet (which includes the big bunch of yellow flowers on the "other" cover, shown above)
Just click on this Supply List link for photos and links to everything in Nichola's artwork, which are also all included in the Giveaway!
To enter the Trinket Box and Foldy Thing Giveaway drawing all you have to do is leave a comment BELOW on this blog post TODAY or TOMORROW (the deadline is 11:59 pm PST, Monday Night, May 7, 2018).
AND tell me: What style will you use to decorate your ATC Ticket Journal? In addition to Nichola's project, we've had some great ideas recently from the Design Team: Bella's Art Nouveau fairies and Laura Carson's lovely ladies.
Don't forget to leave your (hello!) correct email address, too, so I can contact the winner; your email address does not need to be made public. Note: I'm offering free shipping, too, but only within the USA. International shipping will still apply.
Please be patient! Spammers try to post crap here a lot so comments are moderated. So if you don't see your post in the comments section, be patient and check back in a few hours before re-posting it, please!
After midnight, I'll randomly pick the winner (via Random.org).
Hey, who won the Tiny Matchbox Book & Tiny Alice Giveaway from Thursday's newsletter? That would be LeAnn Aagard! Congrats! Check your email for info.
Posted by Leslie, May 6th, 2018