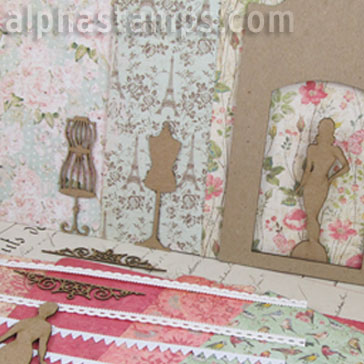 It's always a good sign when the Design Team come up with way different projects using the same kit, as you'll see today with artwork by Kristin Batsel and Rhonda Secrist Thomas — both using the new Tiny Dress Shop Kit.
This kit started with the Moments in Time 6×6 Paper Pad (A pretty mix of vintage icons (Eiffel Tower, dress forms, birds) an a pretty palette of colors, too). 1 each of all 8 double-sided designs is in the kit.
As that paper has a page of mixed dress forms (and there's also a new 3D dress form… more on that below) I designed a couple mini sets of chipboard shapes with dress forms. The set in the kit is the Mini Paper Dolls Shape Set. It includes 2 paper dolls and 2 styles of dress forms. Plus some pretty new filigree (2 pieces, to make the top and bottom of a sign for your dress shop?).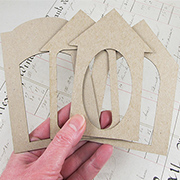 Speaking of chipboard: there a new set of Altoids Tin Facades (and one of the four is in the kit). And also a related 3D roof being announced today (that fits behind the tops of the facades (and is shaped to sit on an Altoids Tin)).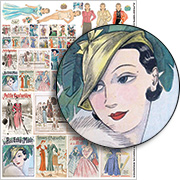 Back to the paper dolls: there are 2 new collage sheets in the kit. One of them (A Tiny French Dress Shop) includes clothes to fit one of the paper dolls in the Mini Paper Dolls Shape Set. Plus some text that can work as signage with the filigree pieces I mentioned above.
The other collage sheet is of French fashion magazines from (mainly) the 1930s and 1940s. Most are 1:12 & 1:24 scale. There are also larger versions that could work as posters inside a dress shop. It also includes some tiny clothes to fit the other paper doll in the Mini Paper Dolls Shape Set.
Finally, some tiny strips of white Dresden: perfect for lacy borders.
More info about the new kit is on the Tiny Dress Shop Kit page. And remember to scroll down to the Giveaway on this page for a chance to win a kit plus lots of extras! Plus between here and there, a big bunch of pretty coordinating papers & trims!
On to the artwork! How fun is this pair of tiny shrines?! Kristin Batsel made homes for a couple of her vintage bisque dolls (Bucky and Maria… glad to know Kristin names her dolls). And good to see a non-fashion use for the new kit papers and facades right off the bat!
More info and photos in Kristin's blog post, and here's a link to see all her supplies.

Moving on to Her Own Little Dress Shop by Rhonda! (See the wide photo below… the back of the dress shop is on the right side, and how cute to make a chimney from measuring tape!)
That measuring tape is paper (it and the big scissors on the back of the shrine are from the new Miss Betty Vintage Thread & Sewing Scrapbook Paper).
More info and photos in Rhonda's blog post, and here's a link to see all her supplies. And see the Giveaway below for a before-and-after photo from Rhonda (how she dressed that tiny 3D dress form you can see reflected in the mirror).


Highlights from the New Goodies! – ALL on Sale!


Moments in Time 6×6 Paper Pad

Ending TOMORROW: Miniatures Sale and FREE Gift!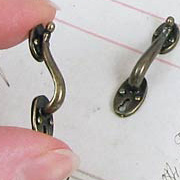 Everything in the 1:12 Scale Building Materials section is on sale! The sale ends MONDAY night, April 30th 2018 (goodbye, April). That includes both of the new miniature hardware announced last Thursday (one shown at left)!
Over 60 items! Go check out the sale!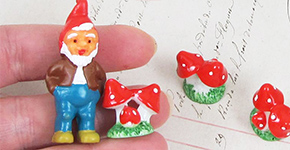 And there's a new FREE Gift with ALL Orders!
I don't know… it was one of those "one thing led to another" things… I was looking for 1:12 scale foliage or other things that could be used with buildings (like Laura Carson's project from Thursday). Then I happened on the mushrooms! Not at all related to a French boutique, but soooo cute! So ALL ORDERS now through Monday, April 30th 2018 will get one of the new Tiny Group of Red Resin Mushrooms FREE!
Plus, if you spend $50 or more, you'll also receive one of the 2 Inch Gnomes FREE. They're just perfect together!

Hooray for the Tiny Dress Shop Kit Giveaway
Before I explain what's in today's Giveaway, look at that sweet dress Rhonda made on the new 3D dress form! Just a tiny snip of lace and some of the new 6×6 paper… Rhonda has more photos and tips on her blog post, too.
Ok… back to this Giveaway: Beside one of the Tiny Dress Shop Kits (that includes SIX items all by itself, however I am subbing the set of all 4 facades instead of the one normally in the kit — that way you'll get the same shape that Rhonda used), this Giveaway also includes more things Rhonda used (all except the last item are new today):
– 3 Inch Miniature Dress Form
– Miss Betty Vintage Thread & Sewing Scrapbook Paper
– Altoids Tin Roof
– Dress Shop Shape Set
– Blank Altoids Tin (the only item that's not new today, but you'll need one for making this little shrine)

To enter the Tiny Dress Shop Kit Giveaway drawing all you have to do is leave a comment BELOW on this blog post TODAY or TOMORROW (the deadline is 11:59 pm PST, Monday Night, April 30, 2018).
AND tell me: What will you make with all these goodies? Or which of them do you have plans for first?
Don't forget to leave your (hello!) correct email address, too, so I can contact the winner; your email address does not need to be made public. Note: I'm offering free shipping, too, but only within the USA. International shipping will still apply.
Please be patient! Spammers try to post crap here a lot so comments are moderated. So if you don't see your post in the comments section, be patient and check back in a few hours before re-posting it, please!
After midnight, I'll randomly pick the winner (via Random.org).
Hey, who won the Eclectic Giveaway from Thursday's newsletter? That would be Debbie Malone! Congrats! Check your email for info.
Posted by Leslie, April 29th, 2018